Our hearts and minds are with Israel as we once again face the onslaught of violence. May Hashem protect our brethren in Israel, especially in the South.
However, we the Jewish people survive many acts against us. This is because we are in control and will never allow ourselves to be defined as a victim. As Rabbi Sacks writes and points the lesson we can learn from this week's Parsha Re'eh.
Jews came to it through the life-changing teachings of Moses, especially in the book of Deuteronomy. They are epitomised in the opening verses of our parsha.

See, I am setting before you today a blessing and a curse: the blessing, if you heed the commandments of the L‑rd your G‑d that I am giving you today; and the curse, if you do not heed the commandments of the L‑rd your G‑d, but stray from the way I am commanding you today …

Throughout Deuteronomy, Moses keeps saying: don't think your future will be determined by forces outside your control. You are indeed surrounded by forces outside your control, but what matters is how you choose. Everything else will follow from that. Choose the good and good things will happen to you. Choose the bad, and eventually you will suffer. Bad choices create bad people who create bad societies, and in such societies, in the fullness of time, liberty is lost. I cannot make that choice for you.

How can you be a victim and yet not see yourself as a victim without being guilty of denial, or deliberate forgetfulness, or wishful thinking? more…
---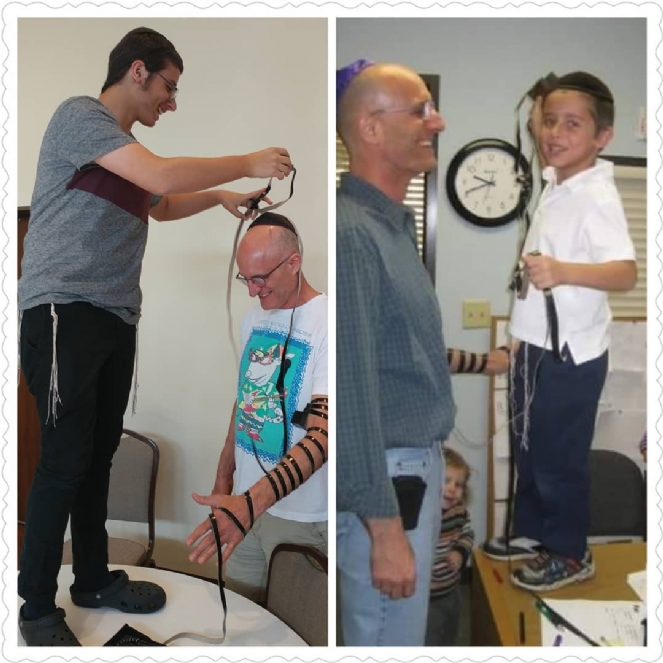 My, how they have grown! This perfect reenactment throwback of Mendel helping Larry put on tefillin is priceless!
The August session of the Tuesday Mommy & Me is in full swing! Join us on Tuesdays at 9:30 am!
Mazel tov to the Sherman / Kislyuk family on the Bar Mitzvah of David Sherman. Please note that, on Sunday, the Rosh Chodesh minyan will be at 10 am (and not at the usual 8:30 am).
As the month of Divine Mercy and Forgiveness it is a most opportune time for teshuvah, prayer, charity, and increased Ahavat Yisrael in the quest for self-improvement and coming closer to G-d. One Elul custom is to include the daily sounding of the shofar as a call to repentance, that begins this Sunday!
---
Shabbos Rosh Chodesh Elul, Parshas Re'eh
Friday, August 10
Services at 7:30 pm | RSVP for Shabbat Dinner
Candle Lighting at 7:49 pm
Shabbos, Rosh Chodesh Elul I, August 11
Chassidus at 9:00 am
Services at 10 am
Followed by Shabbos Rosh Chodesh Kiddush & Farbrengen
Mincha at 7:50 pm
Ethics of our Fathers, Ch. 5
Maariv, Havdalla & Shabbos Ends at 8:44 pm
Living Torah
Sunday, Rosh Chodesh Elul II, August 12 - Shacharis & First Shofar Blast - Bar Mitzvah of David Joshua Sherman at 10:00 am
Monday, August 13 - Shacharis (& Shofar) at 6:45 am
Thursday, August 16 - Shacharis (& Shofar) at 6:45 am
Have a good Shabbos!
Rabbi Chaim & Chanie