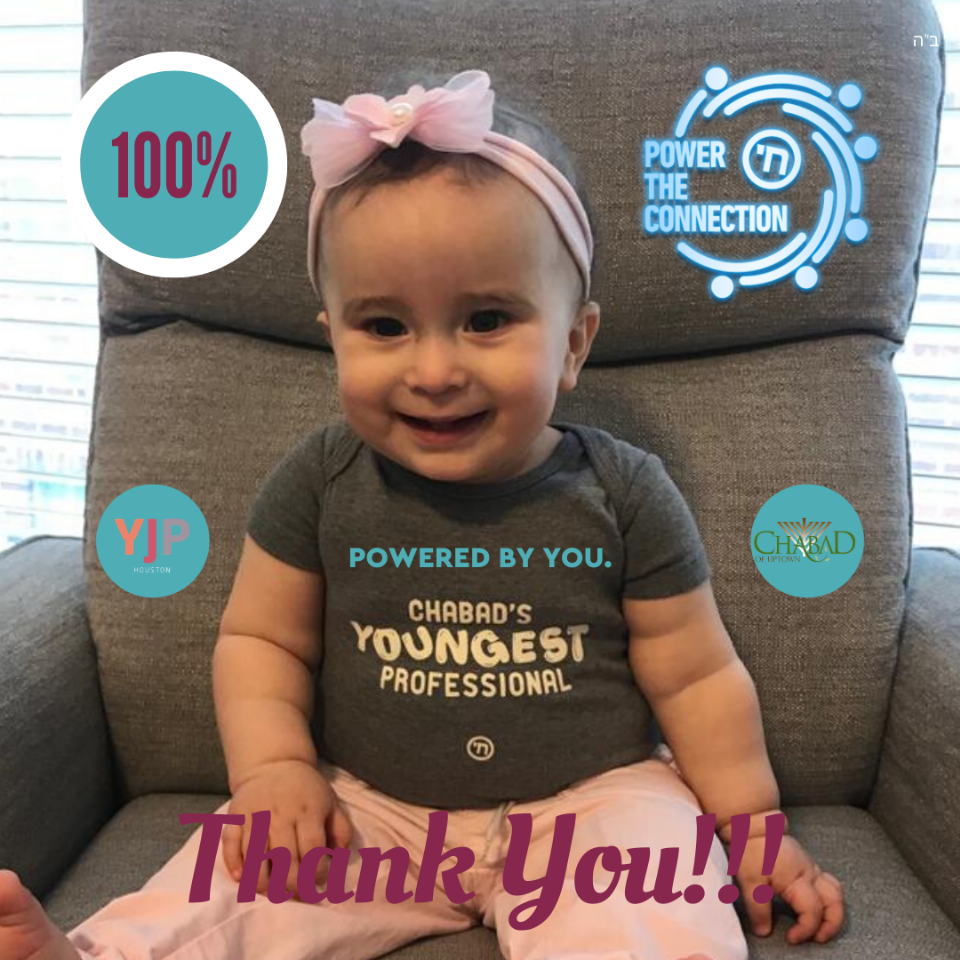 YOU DID IT! You help power Chabad of Uptown & YJP Houston's many programs for young and old. You are now a partner in the work to bring positive and significant Jewish experiences to the Jewish community of Houston.
Thank you so much to our gracious matchers!
Thank you to all who gave to the campaign!
Thank you to alll who shared the campaign with friends and family!
The power was YOU!
GOOD NEWS! If you missed your chance to power up, you can still give to the bonus round at www.chabaduptown.org/power
Talking about Jewish experiences.... Did you see what we have going on for Chanukah?!
Helicopter Gelt Drop - Post Oak Menorah Lighting In cooperation with the Uptown Houston District Sunday, December 22, 2019 - 3:00 pm
Watch a miraculous drop of Chocolate Gelt from the sky! Sofa Park, Corner San Felipe St. & S Post Oak Ln. (Near Whole Foods Market). Helicopter show and entertainment, Giant Menorah Lighting, Crafts for Kids, Refreshments and Gifts for Sale. Proud Sponsor Allegiance Bank. Enter a raffle to win a helicopter ride! www.chabaduptown.org/helicopter
YJP Festibus Party Bus - Party in style with Jewish young professionals in their 20's and 30's Party crawl on board upscale party bus! BUS DESTINATIONS: Helicopter Gelt Drop * Car Menorah Parade * Houston City Hall * Hanover Blvd Place Afterparty & $10 gift exchange. On board Drinks & Music | Food, Sufganiyot & Latkes. Sunday, December 22, 3-9 pm Bus departs Gelt Drop at 5:00 pm RSVP and enter raffle to win helicopter ride at www.yjphouston.org/partybus

5 Powerful Insights From the Rebbe - Vayeitzei
Enjoy four short thoughts and a video adapted from the teachings of the Lubavitcher Rebbe on Parshat Vayeitzei. more…
Shabbos Parshas Vayeitzei
Friday, December 6
Candle Lighting & Mincha at 5:04 pm
Torah Study
Kabbalat Shabbat Services at 6:30 pm
RSVP for Chinese First Fridays Shabbat Dinner
Shabbos, December 7
Chassidis at 9 am
Services at 10 am
Followed by Shabbos Lunch Kiddush
Mincha at 5:05 pm
Torah Study
Maariv, Havdalla & Shabbos Ends at 6:01 pm
Living Torah Video Program (15 min.)
Sunday, Dec. 8 - Shacharis at 8:30 am
Monday, Dec. 9 - Shacharis at 6:45 am
Thursday, Dec. 12 - Shacharis at 6:45 am
Have a good Shabbos!
Rabbi Chaim & Chanie