This week we read Parshas Ki Seitzei. The Parsha concludes with the obligation to "remember whatAmalek did to you on the road, on your way out of Egypt."
The introspective month Elul is in full swing, and our hearts and thoughts are planning for the High Holy Days. We have watched in horror as ISIS has shocked the world with their brazen savagery and executions. But, from within these horrific stories, a gripping Jewish tale has emerged.
It has been widely reported that Steve Sotloff observed some Jewish traditions and rituals during his time of captivity, even while hiding the fact that he was Jewish and held dual Israeli-US citizenship. He would observe his Muslim captors in prayer to Mecca and adjust himself to know what direction to also pray... towards Jerusalem. He told his captors that he was not feeling well and refused food, resorting to fasting... on Yom Kippur. This has been widely reported in major media outlets throughout the world. What a magnificent Kiddush Hashem, sanctification of G-d's name!
Together let us proclaim the "Texas Sotloff Initiative", where EVERY Jew in Texas, whose health allows, fasts this Yom Kippur. Fasting on Yom Kippur allows us to detach from the material world, if only for one day, granting ourselves the spiritual ability to fully focus on our relationship with G-d.

Our dear brother Steven, may Hashem avenge your blood. From our part, we will never forget you. This Yom Kippur, as we work on our relationship with G-d, as we resolve to be better people, it is you who will serve as our guiding light!

May we quickly merit a world of redemption and Moshiach, when we will be reunited with Steve, among all of those who have died al kiddush Hashem. May it be speedily in our days.
---
#throwbackthursday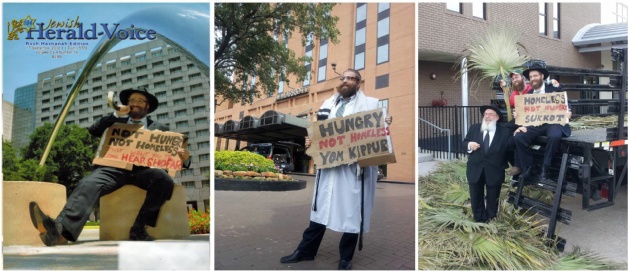 ---
We have had unprecedented early registration for the High Holiday dinners. As space is very limited this year, we WILL sell out! Sign up to secure your seat at www.chabaduptown.org/services(The hotel group rate deadline for sleeping rooms is also tomorrow, Friday, Sept. 5).
In keeping with the teaching of the Torah that has become a hallmark of Chabad worldwide that "all Jews are one family", we recognize every fellow Jew as a member of our Shul. Our services including theHigh Holidays are open to all and a warm seat is waiting for you.
In order to create a financially secure platform for the ongoing activites of the Shul, there is an opportunity to participate as a member with annual fees.
However, for first time Shul members, we have begun Birthright Membership which is a full year of membership at the Shul - Free of Charge. More...
This year, in honor of Yom Kippur, we are once again putting together a listing of all the names of loved ones to be remembered during Yizkor at Chabad of Uptown. Having all these names compiled in one booklet, as is customary in many communities, brings everyone together as one family and brings an added measure of dignity and merit to the souls of our loved ones. These names will be read aloud as part of the Yizkor Service. More...
---
Mazel tov to the Spiegel family on the Bar Mitzvah of their son Ethan. Ethan will read and be called up to the Torah this Shabbos and kiddush is sponsored in his honor! Please come and give a special Uptown welcome!
---
Our sincere condolences to:
Omri Shafran on the passing of his grandfather in Israel
Deborah Karchmer on the passing of her father in El Paso, Shmuel ben Chaim Velvel, Sam Kimmelman, o.b.m.
---
A great Uptown size thank you to Dr. Steve Lovitt for coming and sharing his expertise on ALS at this week's young professionals class.
A special thank you to Naomi Bier and Rachel Graff for their help with Shabbos preparations.
---
The White Party sells out, supports Israel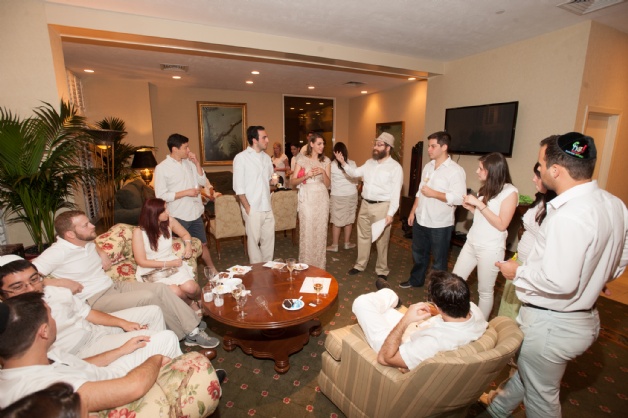 Jewish Herald Voice • Published Thu, Aug 28, 2014

On Aug. 10, the third White Party for young adults and professionals, marking Tu B'Av, was hosted by Chabad of Uptown, with Israeli House Houston and Friends of the IDF co-sponsoring. There was not enough room to accommodate all who came, but attendees participated in a raffle for prizes, socialized, enjoyed white wine and cheese and learned some of the history of Tu B'Av, a day that celebrates love. More...
---
Shabbos Parshas Ki Seitzei
Friday, September 5
Services at 7:30 pm
Candle Lighting at 7:21 pm
Shabbos, September 6
Chassidus at 9 am
Services at 10 am
Followed by Shabbos Kiddush in honor of the bar mitzvah of Ethan Spiegel
Mincha at 7:20 pm
Maariv, Havdalla & Shabbos Ends at 8:14 pm
Living Torah
Have a good Shabbos!
Rabbi Chaim & Chanie