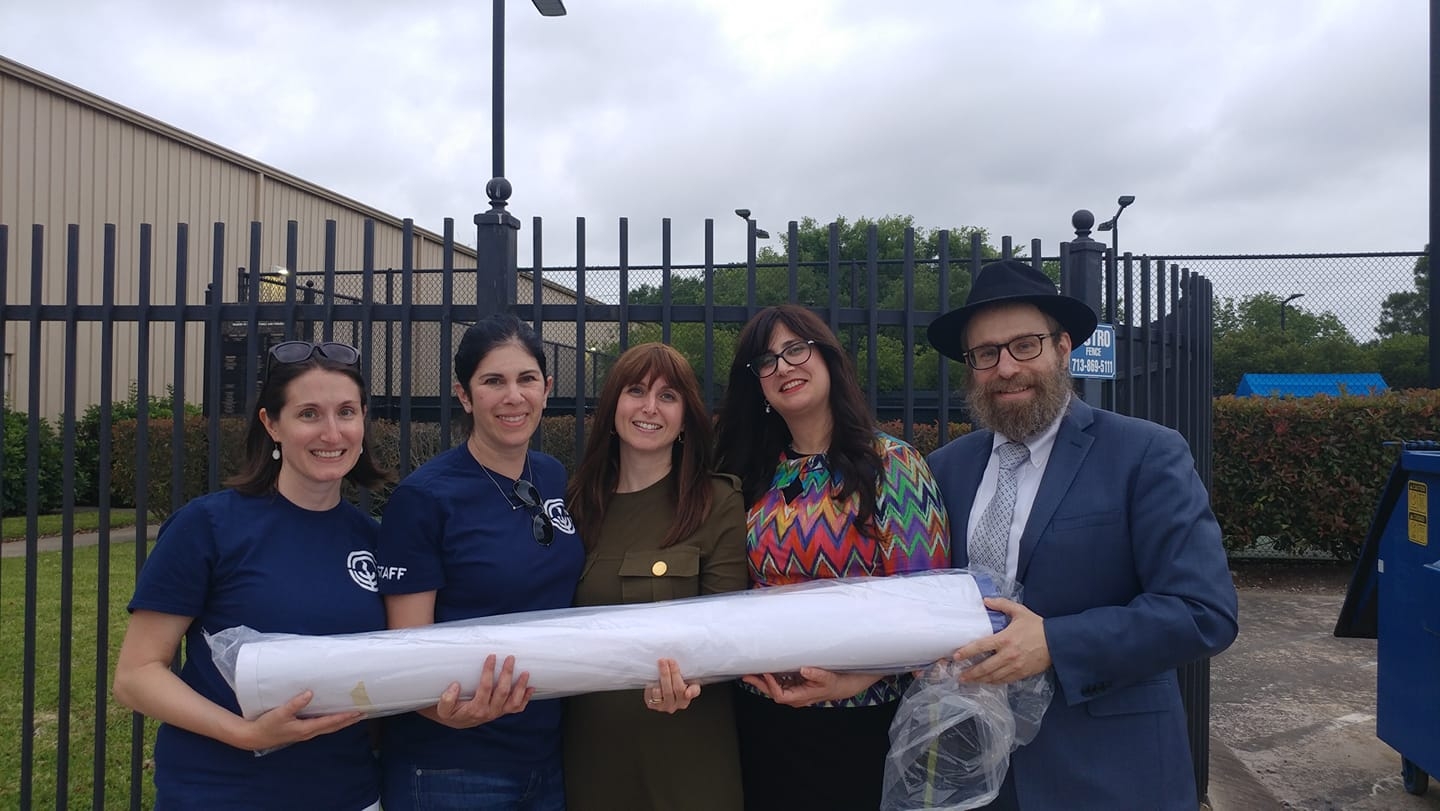 It has been a tough week, tumbling in from the blissful Pesach island into a turbulent week. First reports of the events in Poway, CA on the last day of Pesach was hard to digest.
We also got word that Chanie's grandmother, Bubbie Fox, passed away on Shabbat afternoon, the 8th day of Passover, at age 93. May her memory be a blessing. Our children loved her very much and cherish their fond memories with her.
Rabbi Yisroel Goldstein emerged swinging, defiant and an inspiration as a national hero for his personal self sacrifice and his call for Jews everywhere to stand strong and tall.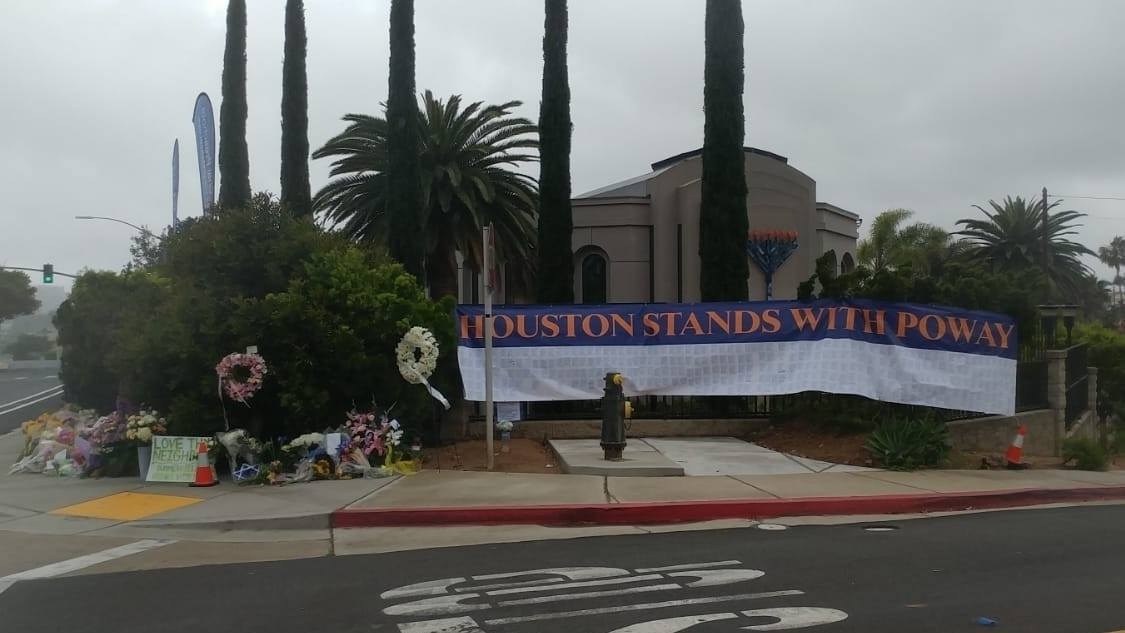 On Monday, the Houston community truly came together for a unity event! A huge crowd gathered at the ERJCC to say we stand in solidarity with Chabad of Poway. All those present joined Rabbi Goldstein's call to increase in good deeds and affixed their label to a banner that read "Houston Stands with Poway" that was filled, rolled and hung in front of Chabad of Poway the very next day! Read about the event in the Jewish Herald Voice.
To add your own mitzvah pledge for the banner, write your intentions on an adhesive label and mail to Chabad of Poway, 16934 Chabad Way, Poway, CA 92064.
The root of the problem stems from education. We need to rethink how our youth in this country are being educated in our schools. See my interview here with Channel 2 NBC. A solution to this may be to revisit how seriously our youth are taking the Moment of Silence in our schools. Listen to this very interesting podcast on the subject. Hear about the Rebbe's vision for a moment of silence, from the Rebbe himself here. Rabbi Goldstein spoke about it today at the Day of Prayer event on the White House Lawn.
Please join the national #ShareShabbat campaign and make an effort to fill every shul to capacity this Shabbat. Any Shul. Of course, Chabad of Uptown's doors are open for you to come and daven. Let's display our pride and not let anyone get us down.
Young Professionals are invited to join us tomorrow night for Shabbat dinner after services, Cinco de Mayo Shabbat!
UPCOMING EVENTS:
This Sunday you have the special opportunity to get trained in Mental Health First Aid at Chabad of Uptown. The fee and lunch is paid for - all you need to do is participate! You can still register for the course online: http://bit.ly/2Sip9Wc
Ladies! Join the next Dessert & Discussion, this time at The Shul of Bellaire on Thursday, May 16 at 7-9 pm. This time the theme is Personal Stories of Love, Joy & Strength, featuring Sandra Finkelman, Ali Katz and Amy Lerman. Followed by breakout study groups Topic Title: 'A Secret Your Soul Wants you to Know'. Get tickets now - click here!
We wish our condolences to Eileen Elfezouaty on the passing of her mother in Chicago on Erev Pesach.
We wish our condolences to Chanie on the passing of her grandmother on the last day of Pesach.
Shabbos Mevarchim Iyar, Parshas Acharei
Friday, May 3
Mincha & Kabbalat Shabbat Services at 7:30 pm
Candle Lighting at 7:42 pm
RSVP for Cinco de Mayo Shabbat - YJP First Fridays Dinner. Free today, costs tomorrow.
Shabbos, May 4
Shabbos Mevarchim Tehillim at 8:30
Services at 10 am
Followed by Shabbos Mevarchim Shabbos Lunch Kiddush & Farbrengen sponsored by Maurice Purcell in honor of Bob Epstein's 96th birthday
Mincha at 7:40 pm
Ethics of of Fathers, Chapter 1
Maariv, Havdalla & Shabbos Ends at 8:39 pm
Living Torah
Sunday, Rosh Chodesh Iyar I, May 4- Shacharis at 8:00 am followed by the real BLT = Bagels, Lox & Tefillin
Monday, Rosh Chodesh Iyar II, May 5 - Shacharis at 6:45 am
Thursday, May 9 - Shacharis at 6:45 am
Have a good Shabbos!
Rabbi Chaim & Chanie