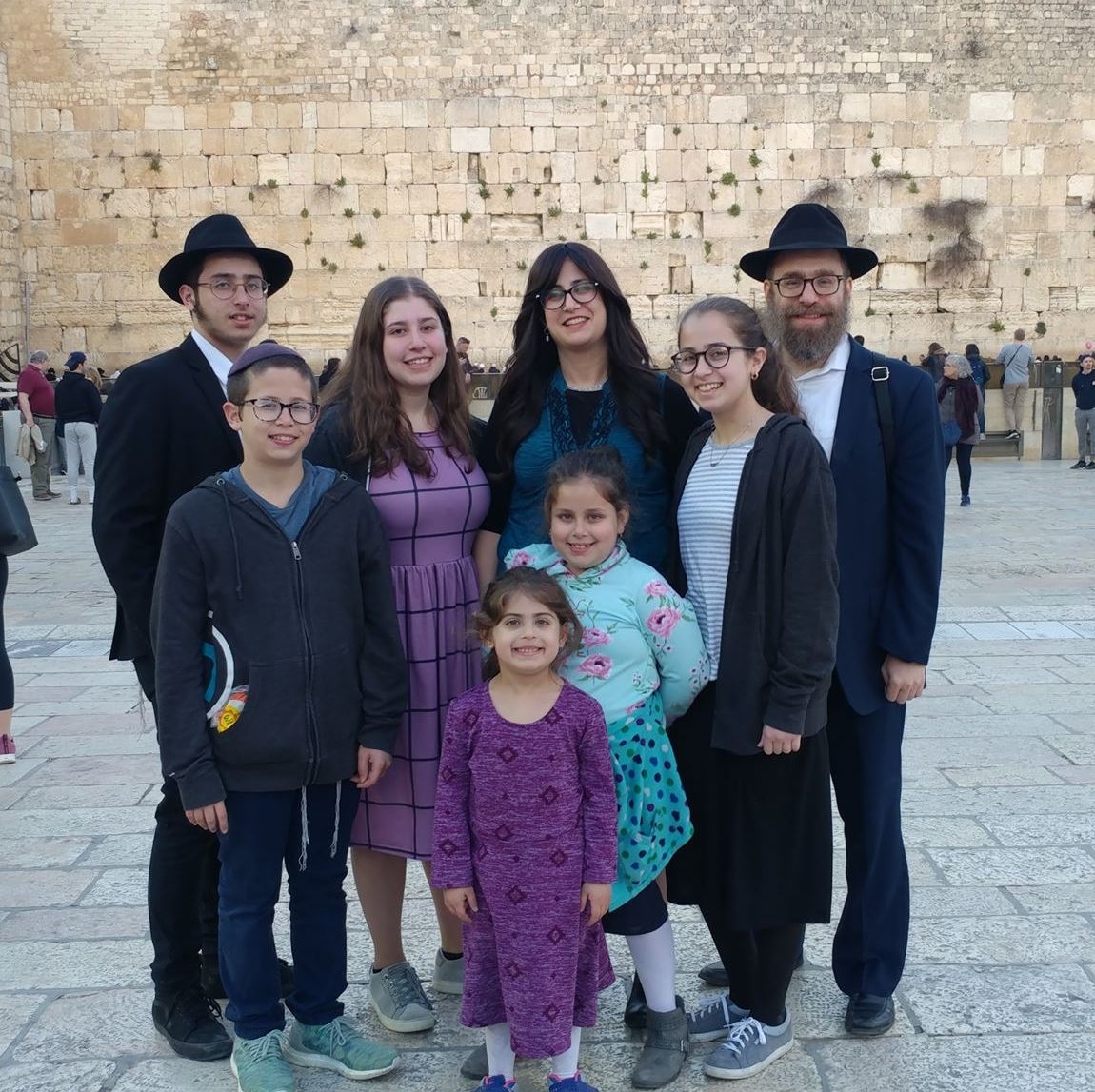 What a trip! Celebrated the wedding of Rabbi Chaim's youngest brother Shmuly and extended the trip for a tour of a lifetime. Especially special for the kids who have never been to the heart of our life - The Holy Land of Israel!
The itinerary was packed! Started with the Kotel, walked the Jewish quarter Old City including the Jerusalem Tzemach Tzedek Shul, Habad St., Migdal David, Walked Old City walls perimeter, Montefoire Windmill, Mamilla, Katamon, Kohanim house excavations, Kever David, Caraaites, Churva Shul, Ramban Shul, Gold Menorah, Kotel Tunnels, Southern Kotel Excavations, City of David, Silwan, Mt Olives, Mountain carved monument of Avshalom and others there, the Shuk, Arab Quarter Old City Market, Machane Yehudah, Mamilla Mall, Wedding in Ceasaria, Pardes Chana, Kfar Chabad, Mitzpe Yericho, Masada, Dead Sea, Ein Gedi, Ayalon Bullet Factory, ToMo candy factory, Kfar Chabad: Matzah Bakery, Esrog Orchards, 770 replica. Chevron: three communities, Avraham Avina Shul, Avraham Avinu Neighborhood, Excavations of Abraham's times, House of Menucha Rochel, Grave of Menucha Rochel and Arab destroyed Jewish cemetery, Tomb of Patriarchs, visited soldiers guarding Chevron, visited with locals living in great personal risk in Chevron, Kiryat Malachi including a cousin who are new Shluchim in Myanmar, Nof Ayalon where Chanie's cousin lives - a daughter of the director of the Bereesheet rover to the moon, Kever Rambam in Tiberias, Kever Rashbi in Meron, Tzfat, Oztar Stam, Kabbala Center, Weaver of Tallitot, Artists market, Abuhav Shul, Caro Shul and Hezbolla rocket there, Arizal Shul, Arizal Mikvah, Arizal Kever, Yosef Caro Kever, Chana and her seven sons, Tzfat Tzemach Tzedek Shul, Kiryat Motzkin, Blind Museum in Holon and so much more that we must of left out or can't remember.....
"First Fridays" will therefore be celebrated this month on the first Friday of Nisan (instead of the April), with Israel Shabbat: a report from Rabbi Chaim, Chanie and kids from the Holy Land! www.yjphouston.org/events/israelshabbat
Pesach mode!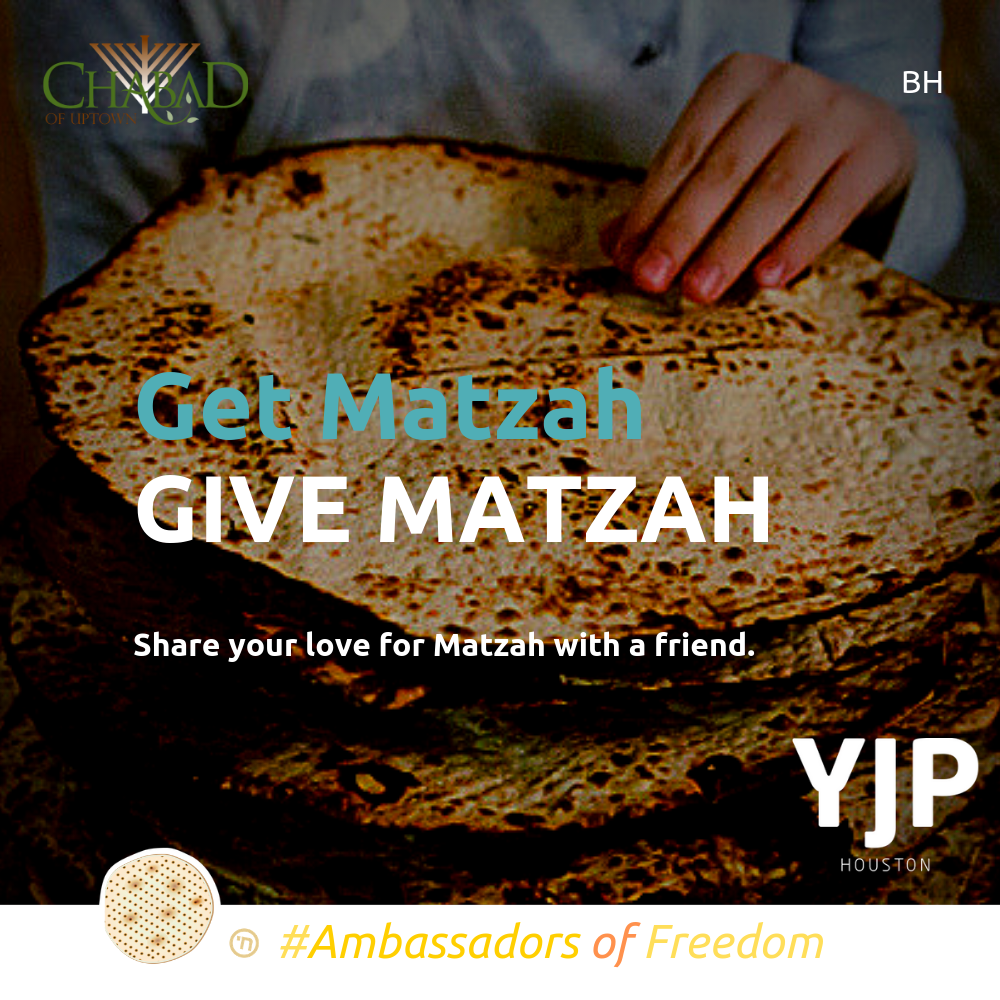 Have we got a gift for you! There is nothing like handmade Shmurah Matzah. Our sages teach that its best to use hand made Shmurah Matzah for the seder, especially for the middle matzah of the Seder plate, the matzah we make th eblessing and fulfill the mitzvah of eating matzah at the seder.
This year we have a special campaign to raise Shmurah Matzah awareness. Please think of whom you can share a matzah with and we have special gift packs for you to use to share shmurah matzah with a Jewish friend. Just reply to this email when you would like to come pick it up from Chabad of Uptown.
Don't forget to:
This Shabbat, the Shabbat before Passover is termed Shabbat HaGadol ("The Great Shabbat") in commemoration of the "great miracle" that happened in Egypt on this day, heralding the Exodus from Egypt five days later. Shabbat HaGadol customs include reading a portion of the Haggadah (see schedule below), which tells the story of the Exodus; it is also customary that the rabbi of the community delivers a lecture in which he elaborates on the laws of Passover and their significance, in preparation for the festival.
Shabbos Hagadol, Parshas Metzora
Friday, April 12
Candle Lighting at 7:29 pm
Mincha & Kabbalat Shabbat Services at 7:30 pm
RSVP for YJP "First Fridays" Shabbat Dinner
Shabbos, April 13
Chassidus at 9 am
Services at 10 am
Say the Nasi
Followed by Shabbos Hagadol Farbrengen & Lunch Kiddush
Mincha at 7:30 pm
Shabbos Hagadol Reading of Portion of Haggadah
Maariv, Havdalla & Shabbos Ends at 8:24 pm
Kiddush Levana
Living Torah
Sunday, April 14 - Shacharis at 8:30 am followed by the real BLT = Bagels, Lox & Tefillin
Monday, April 15 - Shacharis at 6:45 am
Wednesday, April 17 - Chametz Sale Forms due by 5 pm
Thursday, April 18
Shacharis at 6:45 am
Search for Chametz at 8:16 pm
Have a good Shabbos!
Rabbi Chaim & Chanie