Shema Yisroel, Listen oh Israel. In the Parsha last week and this week, Hashem asks us to listen. We say it every day in daily prayers and before we go to bed.
Mindfulness is to hear the pulse of the world around us.
People share so much wisdom, but have a hard time listening. As Rabbi Jonathan Sacks puts it, "When we speak, we tell others who and what we are. But when we listen, we allow others to tell us who they are." If we can't listen to other people, then we certainly can't listen to Hashem.
Rather than filter out social media and real friends who speak and think differently than us, let's give ourselves the gift of listening. Not only does it make us wiser, it also trains us to have the humility to listen to Hashem, transform ourselves even when not convenient, and be more spiritual as a result.
Have a Good Shabbos of Listening!
Rabbi Chaim & Chanie
---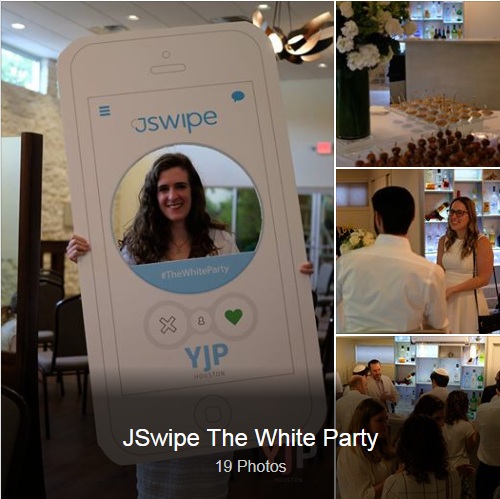 The White Party pictures are up! Entrepreneurs, Couples & Singles Network & meet David Yarus, JSwipe founder, at an exclusive talk, Q&A & white summer cocktail.
Time for Membership! In keeping with the teaching of the Torah that has become a hallmark of Chabad worldwide that "all Jews are one family", we recognize every fellow Jew as a member of our Shul. Our services including the High Holidays are open to all and a warm seat is waiting for you. In order to create a financially secure platform for the ongoing activities of the Shul, there is an opportunity to participate as a member with annual fees. www.chabaduptown.org/membership
However, for first time Shul members, we have Birthright Membership which is a full year of membership at the Shul - Free of Charge. Please note; this offer is to anyone who is not a member at ours or any other Shul previously. To download the application form for Shul membership at Chabad of Uptown click here.
---
In the Family News
Mazel tov to Naomi Bier on her engagement to Elchonon Reizes of Brooklyn, NY!
We wish sincere condolences to Larry Scott on the passing of his father, Herman Scott, of blessed memory.
---
Shabbos Mevarchim, Parshas Eikev
Friday, August 3
Services at 7:30 pm | RSVP for First Fridays YJP DIY Shabbat Dinner
Candle Lighting at 7:55 pm
Shabbos Mevarchim, August 4
Tehillim at 8:30 am
Services at 10 am
Followed by Shabbos Mevarchim Kiddush & Farbrengen
Mincha at 7:55 pm
Ethics of our Fathers, Ch. 4
Maariv, Havdalla & Shabbos Ends at 8:50 pm
Living Torah
Sunday, August 5 - Shacharis at 8:30 am, Followed by the real BLT = Bagels, Lox & Tefillin
Monday, August 6 - Shacharis at 6:45 am
Thursday, August 9 - Shacharis at 6:45 am
Have a good Shabbos!
Rabbi Chaim & Chanie