It always seems that we live in historic times. Now is one of those times, with the threat of our enemies exposed, thwarted and beaten back. Our thoughts and prayers are with Israel this week, as the blessings of military success and safety are flowing.
עיני ה אלוקיך בה מראשית השנה עד אחרית שנה, the Land that the Eyes of Hashem are upon it from the beginning until the end of the year. (Devarim 11:12).
May Hashem continue to protect the Jewish people from our enemies
---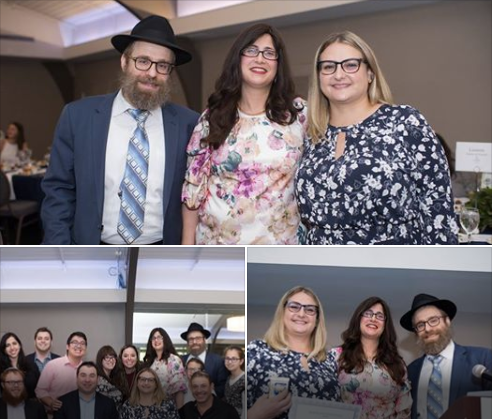 Beautiful event celebrating FCYA and honoring the FCYA committee and the FCYA volunteer of the year, Batami Baskin.
The speakers all spoke beautifully and it truly was a very meaningful event.
We thank all of our sponsors who made it all possible.
Check out the photos here.
Check out the Gala Film here.
---
Shavuos is coming! Complete schedule and RSVP can be found at www.chabaduptown.org/shavuotschedule
Here are the highlights:
---
This Shabbos we will be celebrating the birthday of the amazing and inspiring Bob Epstein with a kiddush sponsored by his dear friend, Maurice Purcell. Come raise a glass to share you well wishes!
---
Shabbos Mevarchim, Parshas Behar-Bechukosai
Friday, May 11
Services at 7:30 pm | RSVP for Shabbat Dinner
Candle Lighting & Mincha at 7:47 pm
Shabbos, May 12
Shabbos Mevarchim Tehillim at 8:30 am
Services at 10 am
Followed by Shabbos Kiddush & Farbrengen sponsored by Maurice Purcell in honor of Bob Epstein's birthday
Mincha at 7:45 pm
Ethics of our Fathers, Ch. 5
Maariv, Havdalla & Shabbos Ends at 8:45 pm
Living Torah
Sunday, May 13 - Shacharis at 8:30 am, Followed by the real BLT = Bagels, Lox & Tefillin
Monday, May 14- Shacharis at 6:45 am
Thursday, May 17 - Shacharis at 6:45 am
Have a good Shabbos!
Rabbi Chaim & Chanie