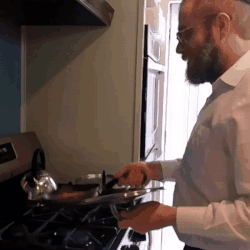 Wonderful seders, filled the rooms, hearts and cups with joy, stories, wining and dining!
The older two kids home, we spent wonderful Chol Hamoed days on family excursions, visiting parks, go karts, and more.
Please join us for a Pesach community holiday dinner, lunch and / or Moshiach sedudah after each service below! Please RSVP to let us know to expect you. (Friday night is for Young Professionals)
This Friday is the First Friday of April AND Pesach! you know what that means.... YJP First Fridays is here! If you are a young Jewish professional, did you RSVP yet for Shabbat dinner, First Fridays - Pesach Edition?
NPR ran a story featuring our holiday cooking shows:

For Rabbi Chaim Lazaroff of Houston, Texas, the kitchen is his happy place. That's why, when he was asked to share a few Passover recipes on FOX 26 Houston, his local news station, he jumped at the opportunity. "If I could, I would cook all day," says the rabbi, who is also the co-director of Chabad of Uptown, a community center for Jewish people. More...

---
The last day of Pesach is particularly associated with Moshiach. At the Moshiach's meal instituted by Rabbi Israel Baal Shem Tov, the Rebbes of Chabad added the custom of drinking four cups of wine, as in the seder held on Passover's first days. Join us this Saturday at 5:45 pm for services and this special celebration that concludes Pesach.
---
Mazel tov to Daniel & Nurit Agranov on the birth of a baby boy!
We extend sincere Condolences to Danielle Resh and Family on the passing of her grandfather.
Pesach Last Days Holiday & Service Schedule
Make an Eruv Tavshilin
Thursday, April 5 | Day 6
Morning Service 7:30 am
Candle Lighting (Shel Yom Tov, no Shehechiyanu) 7:25 pm
Evening Service 7:25 pm
Followed by Holiday Dinner - RSVP
Friday, April 6 | Day 7
Late Night Torah Study 12:00 am
Morning Service 10:00 am
Followed by Pesach Lunch Kiddush
Candle Lighting (shel Shabbos v'shel Yom Tov, no Shehechiyanu) BEFORE 7:25 pm
Evening Service 7:25 pm
Followed by YJP First Fridays Shabbat Dinner - Pesach Edition RSVP
Saturday, April 7 | Day 8
Morning Service 10:00 am
Yizkor Memorial Service 11:15 am
Followed by Shabbos & Pesach Lunch Kiddush
Evening Service 5:45 pm
Followed by Moshiach Meal 6:15 pm
Evening Service 8:20 pm
Holiday Ends 8:20 pm
Bring back the Chametz! - allow 60 minutes for the Rabbi to buy it back for you.
Have a good Yom Tov & Shabbos!
Rabbi Chaim & Chanie