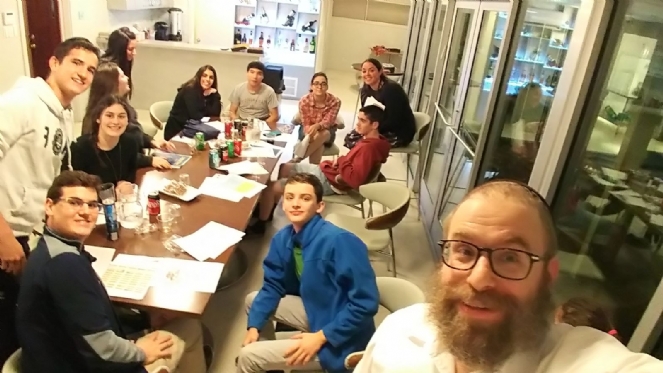 Amazing pre-game meeting for the awesome CTeen Shabbaton coming up! We will join 2500 CTeeners from 300 cities and 17 countries!
This Sunday, at 4:30 pm, watch the live stream of the banquet for the largest community of women leaders in the world at the International Conference of Chabad-Lubavitch Shluchos! www.chabaduptown.org/kinus
This Shabbos is "Shabbat Shekalim". In the times of the Beis Hamikdash, each Jew contributed an annual half-shekel to the Temple. The 1st of Adar marked the beginning of the collection of the shekalim. In commemoration, the Torah reading of the Shabbat that falls before Adar a second Torah is read of the verses (Exodus 30:11-16) that relate Hashem's commandment to Moshe regarding the first giving of the half-shekel. Links: The Shekalim Reading w commentary; Partner; Charity: an Anthology
---
RSVP now for Purim! Your complete Purim schedule with Chabad of Uptown can be found at www.chabaduptown.org/surf
---
We extend our sincere condolences to Hava Kamenetsky and the entire Kamenetsky family on the passing of her husand, Harold Kamenetsky, o.b.m.
Shabbos Mevarchim Parshas Mishpatim & Shekalim
Friday, February 9
Candle Lighting & Mincha at 5:48 pm
Services at 6:30 pm | RSVP for Shabbat Dinner
Shabbos, February 10
Shabbos Mevarchim Tehillim at 8:30 am
Services at 10 am | Torah Reading of 10 Commandments
Followed by Shabbos Mevarchim Kiddush & Farbrengen
Mincha at 5:45 pm
Maariv, Havdalla & Shabbos Ends at 6:43 pm
Living Torah
Sunday, February 11 - Shacharis at 8:30 am, Followed by the real BLT = Bagels, Lox & Tefillin
Monday, February 12 - Shacharis at 6:45 am
Thursday, February 15, Rosh Chodesh Adar - Shacharis at 6:45 am followed by breakfast sponsored by the Melnik family
Friday, February 16, Rosh Chodesh Adar - Shacharis at 6:45 am followed by breakfast
Have a good Shabbos!
Rabbi Chaim & Chanie