#HeresToUptown! Here's your chance!
Chabad of Uptown & YJP Houston have an amazing opportunity to raise $100,000 for our educational, community, family, seniors, CTeen and of course YJP programming. By doing your individual part we will raise up our local community, raise $100,000, raise up Jewish awareness, while raising the entire world!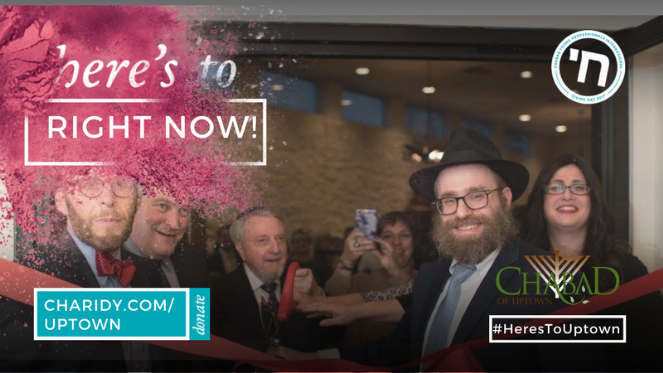 Here's to... Our generous Community & YJP matchers:
➤ Seth & Rivka Weisberg
➤ Maurice Purcell
➤ Melnik Family
➤ Jerald Simmons, MD & CSMA Family
➤ Red Capital
Quadruple your Gift with 4x matching:
Your donation goes four times farther with our "Charidy Campaign". For every dollar you donate, our matching donors will give $4 dollars—$4 for the gift of $1!
$100 becomes $400!
$180 becomes $720!
$1000 becomes $4,000!
$1,800 becomes $7,200!
28 hours: Your gift combines with others' to achieve our goal in just 28 hours.
All or Nothing: Your donation is processed only if the campaign reaches its goal.
THANK YOU!
**With special thanks to the Meromim Foundation for being a sposnor on this Giving Day