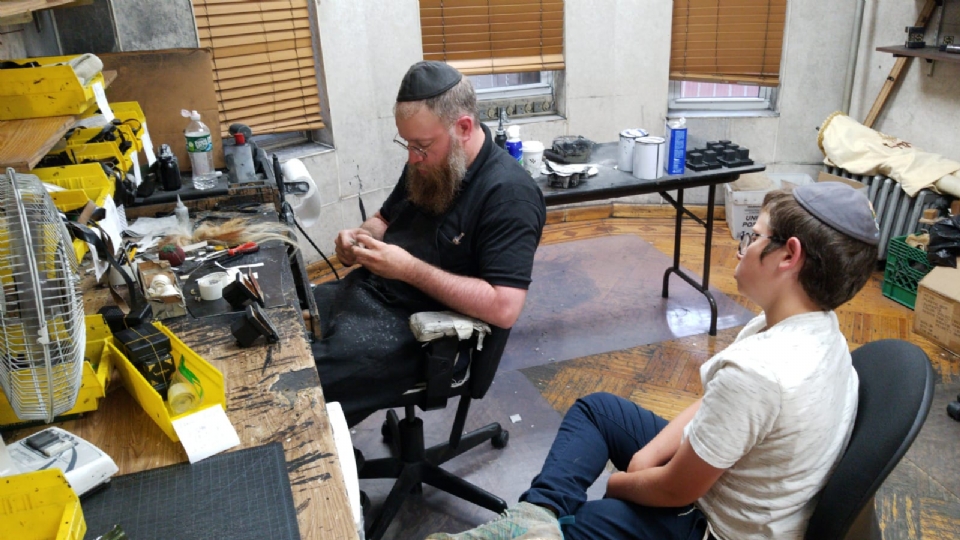 Jam-packed holidays spilling out to the lobby for the shofar blasts, with a beautiful large community parade to tashlich through the heart of Houston! We are so thankful to have you as part of our community. The fun is just beginning! We look forward to seeing you for the duration of the holidays, Yom Kippur, Sukkos & Simchas Torah!
We will be expanding the seating area in the shul to accommodate everyone for Yom Kippur. Please join us! Schedule, reservations and shul memberships, are all on www.chabaduptown.org/services. Thank you to all those that have become members of Chabad of Uptown!
But, first we have YJP First Fridays tonight - Taco 'Bout Shabbat! www.yjphouston.org/taco
Please save the date for next Sunday, October 13! It is customary among Chassidim to put on tefillin for the first time 2 months before one's Bar Mitzvah and to say a Maamar, Chassidic Discourse. Please join us for Shacharis followed by breakfast and Levi's recitation of the maamar! Here is Levi seeing his tefillin being put together a few months ago. It came just in time to bridge my own putting on tefillin until I got my new pair, after my last pair was stolen....
UPCOMING EVENTS:

PARSHA: When G-d Goes Into Hiding
We are here as Jews today, because generations of Jews understood this truth: That the exile is not the absence of G‑d's love and presence, but merely a concealment of His grace. more…
Mazel tov Naomi and Elchonon Reizes on the Pidyon Haben of their dear son, Dovi!
Shabbos Shuva Parshas Vayelech
Friday, October 4
Candle Lighting & MIncha at 6:46 pm
Kabbalat Shabbat Services at 7:00 pm
RSVP for YJP Taco Themed First Fridays Shabbat Dinner
Shabbos, October 5
Chassidus at 9 am
Services at 10 am
Followed by farbrengen and lunch kiddush
Mincha at 6:45 pm
Torah Study & Song
Maariv, Havdalla & Shabbos Ends at 7:38 pm
Living Torah Video Program (15 min.)
Sunday, Oct. 6 - Shacharis at 8:30 am followed by the real BLT = bagels, lox & tefillin
Monday, Oct. 7 - Shacharis at 6:45 am
Yom Kippur
Tuesday, October 8
Light Holiday Candles & Fast Begins
6:41 pm
Kol Nidrei
6:45 pm
Children's Program
6:45-9:00pm
Wednesday, October 9
Morning Service
9:30am
Children's Program
11:00am-1:30pm
Yizkor Memorial Service
12:30pm
Mincha Afternoon Service
5:00pm
Neilah Closing Service
6:15pm
Havdala & Fast Ends
7:33pm
Break the Fast Light Buffet - RSVP
Thursday, October 10, "Guts Tog", = Hashem's name - Shacharis at 6:45 am
Have a good Shabbos and a Gmar Vachasma Tova! May you be sealed for a good year!
Rabbi Chaim & Chanie