It's a girls house! Chaya is now also home from camp, completing the girls unit of the family while the boys are away at camp...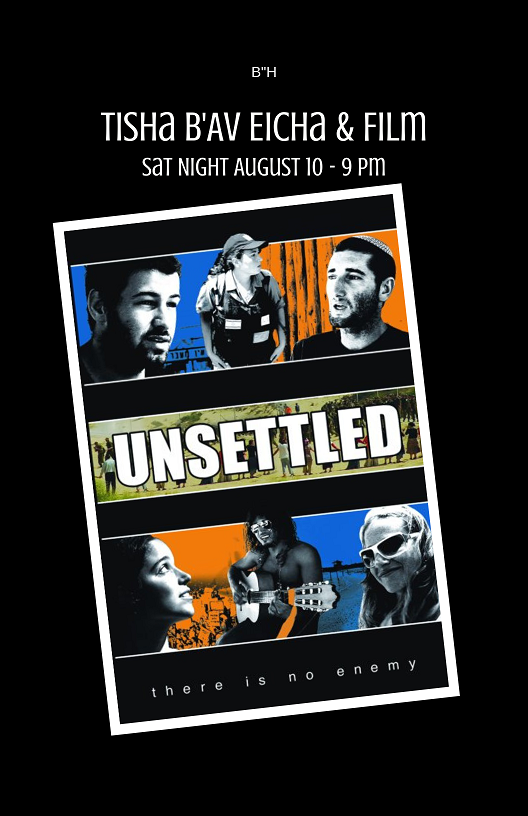 This Shabbat is called Shabbat Chazon, Shabbat of Vision. It is the opening words of the day's haftara, which is the third of the series of readings known as "The Three of Rebuke." On this Shabbat, say the Chassidic masters, we are granted a vision of the Third Temple; we may not see it with our physical eyes, but our souls see it, and are empowered to break free of our present state of galus and bring about the Redemption and the rebuilding of the Beis Hamikdash! Links: The Holy Temple: an Anthology, Shabbat of Vision, About the "Three of Rebuke", www.thethreeweeks.com
Because of the holiness of Shabbat, the Tisha Bav fast, mourning the destruction of the Temple and the exile of Israel, is postponed to after Shabbat. The fast begins Saturday at sunset, and continues through Sunday, Av 10, till nightfall. See full schedule below. See "Laws and Customs" for tomorrow, Av 10, for the particular observances of the fast day. Links: Mitzvah Minute: Tisha b'Av, Laws of Tishah B'Av.
On Motzei Shabbat, join us for an evening of film, study and personal reflection. ABOUT THE FILM "UNSETTLED" & TISHA B'AV: This day is when we traditionally mourn the destruction of the Temple and all the subsequent tragedies to befall the Jewish people. In recent history we witnessed Israel's disengagement from Gaza. It all began with the closing of the Kissufim crossing when on August 14, 9 Av, of 2005 and the Gaza Strip became officially closed for entrance by Israelis. During the Gaza withdrawal, three young Israelis will be forced from their homes, two soldiers will be sent to evict them, and one activist will try to help her country avoid a war. UNSETTLED is the story of a generation on the front lines of a nation's battle against itself.
UPCOMING EVENTS:
AUG 15: YJP HOUSTON - The White Party - www.yjphouston.org/white
Join Houston Young Jewish Professionals in their 20's and 30's for an evening of art, music, wine and sushi in your summer white cocktail attire! Celebrate Tu B'Av with YJP Houston, where artists Maria Itkin, Debra Gross, Jessica Pfrenger and Roni Urunbaev will feature their unique art collection and participate in an interactive mural, allowing you the opportunity to become the artist!
AUG 18: Mental Health First Aid http://bit.ly/2Sip9Wc.
Mental Health First Aid teaches a 5-step action plan to offer initial help to people showing signs of a mental illness or in a crisis, and connects them with the appropriate professional, peer, social, or self help care. Anyone can take the 8-hour Mental Health First Aid course, but it is ideally designed for adults — teachers, coaches, leaders of faith communities, social workers, and other caring citizens.
AUG 23-24: "LSD & Tefillin Changed my Life" Entire Community welcome to join us for Shabbat dinner, preparing for Elul with Scholars in Residence Rabbi Aharon & Chava Green. Register for Shabbat dinner now at www.chabaduptown.org/lsd
Mazel tov Jessie and Miriam Izak on the birth a baby girl!
PARSHA: The Vacuum of Choice
On whose initiative were the spies sent? The way the story is told in Numbers 13, it was by divine command. But when Moses recounts these events 40 years later, he tells the people of Israel that it was their idea. The contradiction describes a watershed in the history of freedom of choice. more…
Shabbos Chazon Parshas Devarim
Friday, August 9, 8 Av
Services at 7:30 pm | RSVP for Shabbat Dinner
Candle Lighting at 7:50 pm
Shabbos, August 10, 9 Av
Chassidus at 9:00 am
Services at 10 am
Followed by Shabbos Kiddush & Farbengen
Refrain from general Torah study at 1:26 pm
Early Mincha at 2:01 pm
No Pirkei Avos, No Egg & Ash
Fast begins at 8:07 pm
Shabbos ends 8:45 pm
Say Baruch Hamavdil bein Kodesh L'Chol
Change out of leather shoes, leave on Shabbos clothes
Maariv & Havdalla Candle 9:00 pm
Megilat Eicha - Book of Lamentations 9:15 pm
Followed by a moving documentary film, "Unsettled"
Sunday, August 11, 10 Av - Tisha B'av (Observed)
Ritual wash (negel vasser) only to knuckles
8:30 am Shacharis with Torah Reading
No Talis & Tefillin by Shacharis
9:30 am Kinos - Lamentations
1:26 pm Midday - Resume sitting normally
7:15 pm Mincha – Talis, Tefillin, Krias HaTorah
8:32 pm Maariv, Havdalla (on wine only) & Fast Ends
Kiddush Levanah
Refrain from meat and wine tonight. All other mourning practices cease.
Monday, August 12, Av 11 - Shacharis at 6:45 am
Thursday, August 15, Av 14 - Shacharis at 6:45 am
YJP Houston The White Party at 7 pm www.yjphouston.org/white