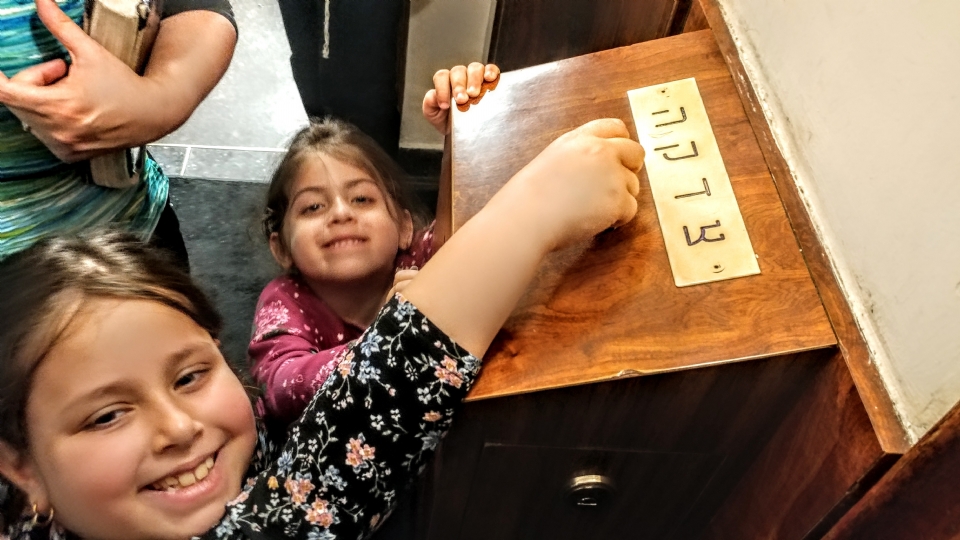 I vividly remember when I was a child standing in the foyer of 770 Eastern Parkway with my family waiting for the Rebbe to pass by on the way to or from synagogue prayer. After waiting for a while, the moment finally came, and the Rebbe emerged. The Rebbe reached into his pocket and started handing out coins for charity to the few kids who were present. To the Rebbe, no person was too small, and no child was overlooked. Every. Single. One. I happily accepted my own coin and quickly shoved this priceless keepsake in my pocket. The Rebbe pointed to the nearby large pushka (charity box) on the wall. I quickly realized that the Rebbe wanted me to give tzedaka and not push off an opportunity even for a moment. As the Rebbe watched, I walked across the less than 10 foot room, that to me at that moment felt like the length of a football field. I performed the mitzvah and dropped the coin in the pushka, immediately.

We have been in NY this week in preparation for the Rebbe's 25 yartzeit this Shabbos, Gimmel Tammuz. It started with a mini conference collaborating with Shluchim emissaries from around the world who work with young professionals and spending time in the nerve center where the Rebbe created a revolution of Jewish engagement, Torah and leadership.

Today, Chanie and I went with the kids for a visit to the Rebbe's office in 770. We handed them each a dollar for charity. I told them the experience when the Rebbe handed me the coin and they placed their own dollar in the very same charity box, immediately.

May we feel the urgency in which to transform the world around us and to succeed in doing so, immediately.
Check out this revolutionary new interactive experience featuring the Rebbe's wisdom and teachings. Every Single One explores a number of recurring themes from the Rebbe, highlighting the utmost importance of Every. Single. One. https://everysingleone.ashreinu.appYou can also find it on JEM's Instagram channel at tinyurl.com/y2k3sw3y
What a wonderful Shabbos we had last week with Rabbi Shlomo Galperin, in preparation for the Rebbe's 25th yartzeit this Shabbos. JHV wrote a wonderful article including some of the many stories he shared over Shabbos. Click >
Mazel tov to the entire Melnik family on the engagement of Ryan Melnik to Michelle Mizrahi!

TIMELY: 3 Tammuz: The Anniversary of the Passing of the Rebbe—Rabbi Menachem M. Schneerson, of Righteous Memory
Let's make this a day for reflection, learning, prayer, re-commitment and, above all, positive action. more…




PARSHA: Korach and Anarchy

Korach is a figure I can highly identify with. From primary grades on, I never got along too well with authority. more…




Shabbos Gimmel Tammuz
Parshas Korach
A Shabbat of Tribute Marking the 25th Yartzeit of The Lubavitcher Rebbe, zy"a

Friday, July 5
Mincha & Kabbalat Shabbat Services at 7:30 pm
Candle Lighting at 8:08 pm
RSVP for "Leadership Shabbat" YJP First Fridays Shabbat Dinner

Shabbos, July 6
Chassidus at 9:00 am
Services at 10 am
Followed by Shabbos Lunch Kiddush & Farbrengen
Mincha at 8:10 pm
Ethics of of Fathers, Chapter 4
Maariv, Havdalla & Shabbos Ends at 9:07 pm
Living Torah Video Program (15 min.)

Sunday, July 7 Shacharis at 8:30 am Followed by the the real BLT = Bagels Lox & Tefillin
Monday, July 8 - Shacharis at 6:45 am
Thursday, July 11 - Shacharis at 6:45 am

Have a good Shabbos!

Rabbi Chaim & Chanie