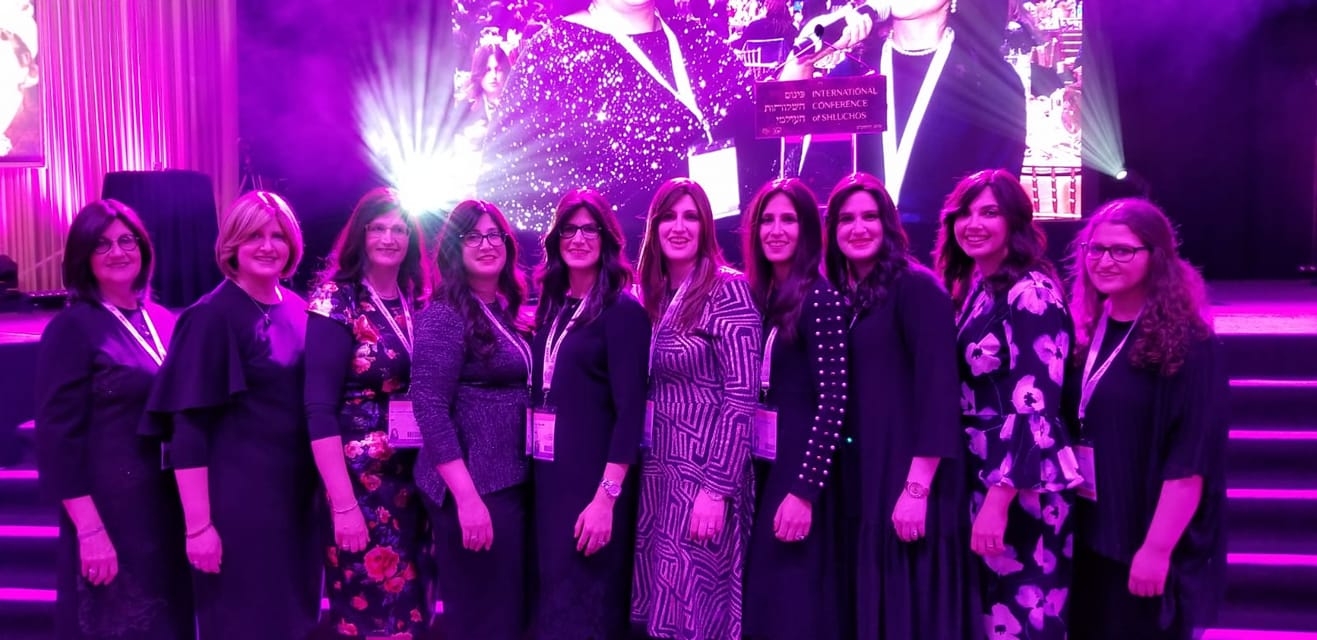 Besides for the bar mitzvah number of thirteen, there are thirteen gates to Heaven, though which we pray through thirteen gates of prayer, reaching the thirteen attributes of mercy. These thirteen years have been spectacular, as can be seen in our 13+ years of our website's photo galleries. We are so thankful for each and every one of you, who make this community so special. Thank you for being a part of this amazing experience of Chabad of Uptown.

The Rebbe taught us to never rest, we continue to forge ahead with renewed strength and endless possibilities. Uptown, Upward and Onward!

This Shabbos we kick off February with First Fridays and a Shabbos Mevarchim kiddush - BOTH MARKING 13 YEARS OF CHABAD OF UPTOWN! Please join us!

What a way to close a fantastic week! This past Sunday found Chanie sitting at a table at the International Conference of Chabad-Lubavitch Women Emissaries (Kinus Hashluchos) at the New York State Armory in the Williamsburg section of Brooklyn, N.Y., together with 3,000 other women emissaries and lay leaders from 100 countries with Chabad presence... The energy was amazing and you can watch the replay of closing session here.

Next Rabbi Chaim's niece Shevi Rosenfeld married Menachem Aron, both from Australia with a wedding in NY! Some of you may remember Menachem who came last year to assist us with the Chanukah festivities....

Tonight the Lazaroff family are in NY celebrating the engagement of Rabbi Chaim's brother Shmuly to Hayley van de Veen from Tzfat

Please join us on Tuesday for the monthly Rosh Chodesh minyan and breakfast! See the full schedule below.

PARSHA: How to Get Rid of Bad Habits and Create Better Ones

What can we learn from the law of the goring ox? more…




Shabbos Mevarchim Adar I, Parshas Mishpatim

Friday, February 1
Shacharis at 6:45 am followed by breakfast sponsored by Fred Zeidman marking the yartzeit of his father, Moshe Ber ben Shlomo, a"h
Candle Lighting at 5:41 pm
Mincha Services at 5:45 pm
Study of Timeless lessons of the Rebbe
Kabbalat Shabbat Services at 6:30 pm
RSVP for Shabbat Japan - YJP First Fridays Dinner

Shabbos, February 2
Shabbos Mevarchim Tehillim at 8:30
Services at 10 am
Followed by 13 Anniversary Shabbos Mevarchim Lunch Kiddush & Farbrengen
Mincha at 5:40 pm
Shiur in Halachot
Maariv, Havdalla & Shabbos Ends at 6:37 pm
Living Torah

Sunday, February 3 - Shacharis at 8:30 am followed by the real BLT = Bagels, Lox & Tefillin
Monday, February 4 - Shacharis at 6:45 am
Tuesday, February 5, Rosh Chodesh Adar 1 - Shacharis at 6:45 am followed by monthly breakfast sponsored by Melnik Family
Thursday, February 7 - Shacharis at 6:45 am

Have a good Shabbos!

Rabbi Chaim & Chanie