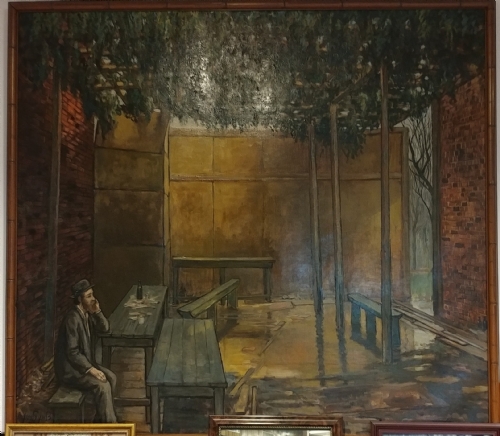 What an unbelievably moving, uplifting and joyous holidays, concluding with a most powerful Simchas Torah!
Now, we say "goodbye to the Sukkah" and hit the road of daily mitzvos as depicted by this most moving 1970 / 5730 piece by Zalman Kleinman, "Gezegen Zach foon der Sukkah", "Saying Goodbye to the Sukkah", oil on canvas 38x42. The scene says it all... Puddles, benches in disarray, indents of the walls - the Chassid sits alone.
Mazel tov Yuval & Ady Goldberg on the birth of a baby boy, Aharon!
Shabbos Mevarchim, Parshas Bereishis
Friday, October 5
Services at 6:45 pm | RSVP for YJP Pink Shabbat - First Fridays Shabbat Dinner
Candle Lighting at 6:44 pm
Shabbos, October 6
Shabbos Mevarchim tehillim at 8:30 am
Services at 10 am
Followed by Shabbos Mevarchim Kiddush & Farbrengen
Mincha at 6:45 pm
Class on Laws of Yichud - Seclusion
Maariv, Havdalla & Shabbos Ends at 7:37 pm
Living Torah
Sunday, October 7 - Shacharis at 8:30 am, Followed by the real BLT = Bagels, Lox & Tefillin
Monday, October 8 - Shacharis at 6:45 am
Rosh Chodesh Cheshvan - Tuesday & Wednesday, October 9-10
Shacharis at 6:45 am followed by breakfast
Thursday, October 11 - Shacharis at 6:45 am
Have a good Shabbos!
Rabbi Chaim & Chanie