Our Chabad of Uptown website got a facelift! Check it out at www.chabaduptown.org!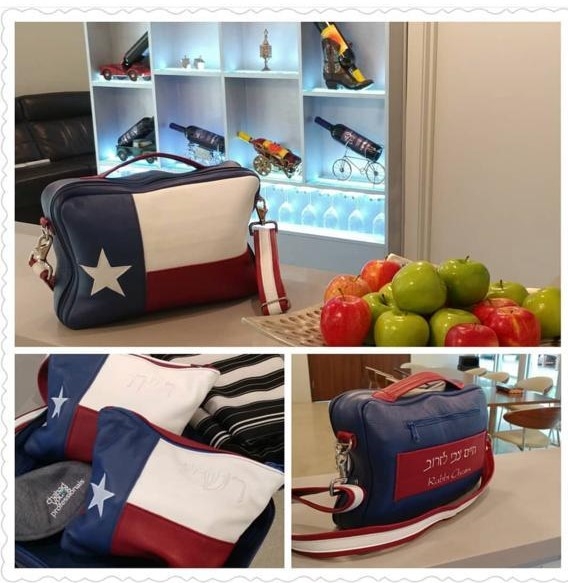 ​Please pray for the safety and return of my prized set of Texas state custom bags containing my precious talis & tefillin (from my bar mitzvah). It was stolen from my car by someone driving a souped up dodge ram 4 door pickup truck without plates, smashing my window, while parked at a store near Westheimer & Fountain View.
Call to action:
1. Put on tefillin in memory of mine. Come by Chabad of Uptown, I'm happy to help you put it on.
2. Check the garbage in your area to see if they G-d forbid tossed these holy articles once they realized the contents are of no value to them.
3. Share this far and wide, maybe someone saw someone sporting these custom bags, there is no other bag like it. It has my email address and phone number embroidered inside each bag.
LADIES! This Wednesday, join Chanie to gear up for the New Year in style for an evening of Torah study and culinary delight! Torah Study: Choose what talks to your soul! Partake in a round-table study session; explore a Jewish New Year topic of your choice.*
Culinary Delight: Enjoy a fast-paced Holiday cook-off competition, featuring: Sara Goldberg, Revital Pour & Tiffany Siegel and Moderated by Rochel Lazaroff. Finally, learn 'kitchen hacks' for your Holiday table from the renowned Laykie Donin. PLUS sample delicious featured dishes all set up by the talented Tova Events & Flowers!
It all happens Wednesday, September 18 - 18 Elul @ Aishel House Couvert is $15 ($20 at door) RSVP at Chabadhouston.com/ladies *Select study topic on RSVP form.
UPCOMING EVENTS:
SEPT 18: Ladies Sweet Beginnings - An Evening of Torah Study and Culinary Delight for women, hosted by

Aishel

House in partnership with all

Chabad

Centers of Houston - www.chabadhouston.com/ladies
SEPT 22: (AKA Sat. night Sept. 21) Selichot 1:15 am
SEPT 29: Rosh

Hashana

followed by the month of holidays! All the information has been posted to chabaduptown.org/services
Shabbos Parshas Ki Seitzei
Friday, September 13
Candle Lighting & MIncha at 7:12 pm
Kabbalat Shabbat Services at 7:30 pm
RSVP for Shabbat Dinner
Shabbos, September 14
Chassidus at 9:00 am
Services at 10 am
Followed by Shabbos Kiddush
Mincha at 7:10 pm
Ethics of of Fathers, Chapter 1 & 2
Maariv, Havdalla & Shabbos Ends at 8:04 pm
Living Torah Video Program (15 min.)
Sunday, Sept. 15 - Shacharis at 8:30 am
Monday, Sept. 16 - Shacharis at 6:45 am
Thursday, Sept. 19 - Shacharis at 6:45 am
Have a good Shabbos!
Rabbi Chaim & Chanie