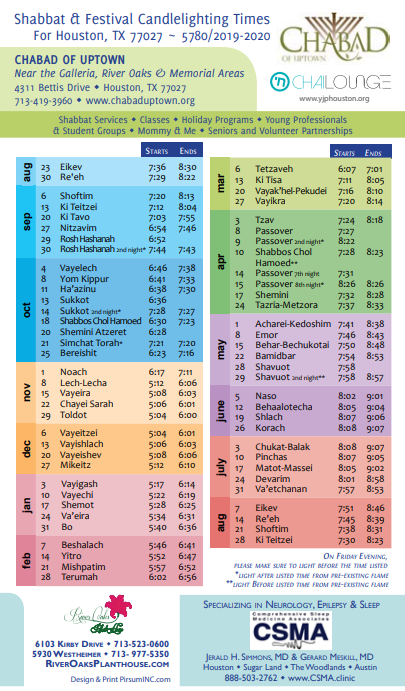 Last Shabbat was off the hook with farbrengens rolling until 1 am on Friday night and 5 pm on Shabbos!
Can't believe it has been another week already! Now that Levi is home from camp, the Uptown Lazaroff have been reunited for a Shabbos, together with all of you - the rest of the Uptown family! Please join us!
You should have received this "Shabbos & Festival Candlelighting Times" magnet in the mail for your refrigerator to know that Shabbos and Holiday dates, start and end times. If you did not, please send us your mailing address we will get one right out!
The winds of Elul are blowing! Elul is traditionally a time of introspection and stocktaking -- a time to review one's deeds and spiritual progress over the past year and prepare for the upcoming "Days of Awe" of Rosh HaShanah and Yom Kippur.
Beginning this Shabbos, the psalm L'David Hashem Ori (Psalm 27) is recited at the end of the morning and afternoon prayers until Hoshanah Rabbah - a total of 50 days!
It is a most opportune time for teshuvah, prayer, charity, and increased Ahavat Yisrael in the quest for self-improvement and coming closer to Hashem.
The Alter Rebbe, Rabbi Schneur Zalman of Liadi likens the month of Elul to a time when "the king is in the field" and, in contrast to when he is in the royal palace, "everyone who so desires is permitted to meet him, and he receives them all with a cheerful countenance and shows a smiling face to them all."
On Sunday we also begin the specific Elul customs that include the daily sounding of the shofar as a call to repentance.
The Baal Shem Tov instituted the custom of reciting three additional chapters of Tehilim each day, from the 1st of Elul until Yom Kippur.
From the beginning of Elul and throughout the High Holiday season, we include the blessing "May you be inscribed and sealed for a good year" (Leshanah tovah tikateiv veteichateim) in letters and greetings to one another.
It is the time when we have our annual optional Shul membership drive! Services at Chabad are free, where no tickets, membership or affiliation necessary! However, by joining our optional membership, it allows us to afford the freedom of an open door policy and keep our programs going! Your membership includes two reserved seats for services. www.chabaduptown.org/membership.
UPCOMING EVENTS:
Mazel tov Zach & Marissa Savrick on the birth of a baby girl!
Shabbos Rosh Chodesh Elul, Parshas Re'eh
Friday, August 30
Candle Lighting at 7:29 pm
Mincha & Kabbalat Shabbat Services at 7:30 pm
RSVP for Shabbat Dinner
Shabbos Rosh Chodesh I, August 31
Chassidus at 9:00 am
Services at 10 am
Followed by Shabbos Rosh Chodesh Lunch Kiddush
Mincha at 7:30 pm
Ethics of of Fathers, Chapter 5
Maariv, Havdalla & Shabbos Ends at 8:22 pm
Living Torah Video Program (15 min.)
Sunday, Rosh Chodesh Elul II, Sept. 1 - Shacharis at 8:30 am followed by the monthly Rosh Chodesh breakfast!
Monday, Sept. 2 - Shacharis at 6:45 am
Thursday, Sept. 5 - Shacharis at 6:45 am
Have a good Shabbos!
Rabbi Chaim & Chanie