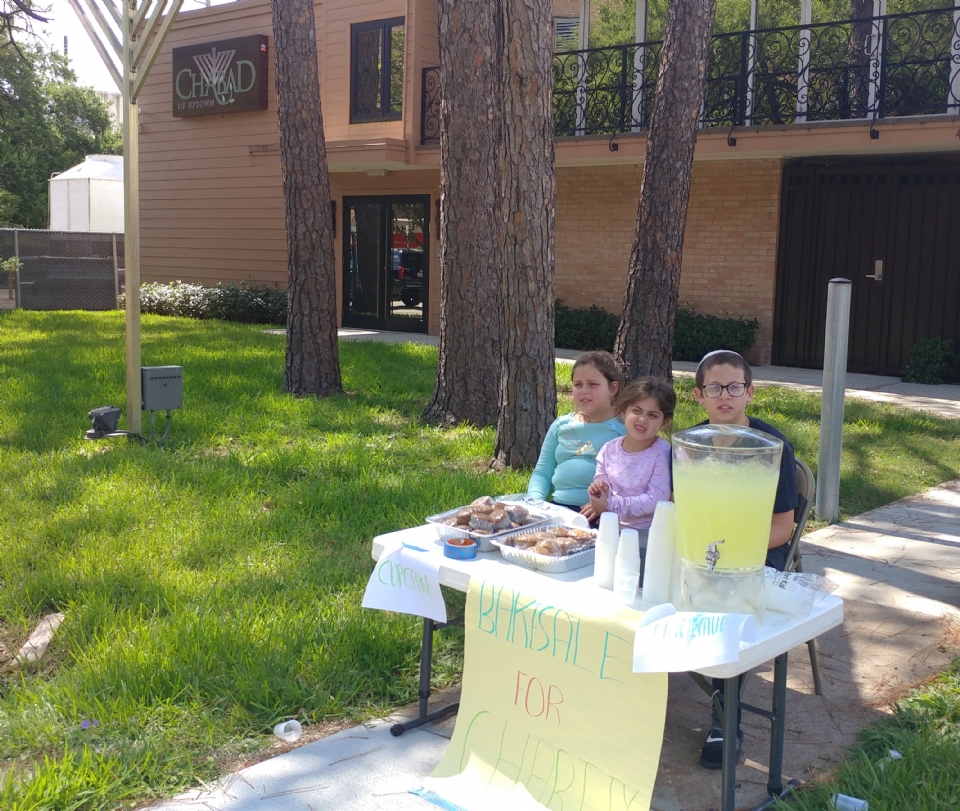 When you have lemonade, well... sell it!
Texas made nationwide news when the law was signed last week that a child may sell lemonade from a stand on private property. Well, the kids got straight to work and splitting the proceeds with tzedaka raising $122 for Chabad of Uptown! What a mitzvah!
What was most enjoyable was watching total strangers of all walks of life stop and give the kids the time of day.... What a wonderful community we live in.
Guess who is coming home? Mendel! He has completed his three year of study at the "Mesivta" Yeshivah in New Haven. He now graduates to move on to "Beis Midrash" next year!
Classes are on full steam all week long, check out the schedule of classes at www.chabaduptown.org/classes.
We hope you will join us next Shabbos for the Tashkent to Texas Shabbaton with Chanie's father, Rabbi Shlomo Galperin. www.chabaduptown.org/shabbaton
THANK YOU!! to all those who have stepped up to the plate for the security fund, so we can increase uniformed patrol at Chabad of Uptown! We have about 9 more $850 months to cover a year! To participate to sponsor a whole, half or quarter of a month, visit www.chabaduptown.org/donate and choose security fund.

PARSHA IN 6 MIN. VIDEO: What Are You Worth, Actually?
Extreme humility is sometimes confused with low self-esteem. For Moses, these were as different as day and night. more…
Shabbos Parshas Bha'alosecha
Friday, June 21
Mincha & Kabbalat Shabbat Services at 7:30 pm
Candle Lighting at 8:07 pm
RSVP for Shabbat Dinner
Shabbos, June 22
Chassidus at 9 am
Services at 10 am
Followed by Shabbos Lunch Kiddush
Mincha at 8:05 pm
Ethics of of Fathers, Chapter 2
Maariv, Havdalla & Shabbos Ends at 9:07 pm
Living Torah
Sunday, June 23- Shacharis at 8:30 am
Monday, June 24 - Shacharis at 6:45 am
Thursday, June 27 - Shacharis at 6:45 am
Friday, June 28-29 - Tashkent to Texas Shabbaton
Have a good Shabbos!
Rabbi Chaim & Chanie