We did it!
We are so thankful to everyone of the 231 of you who contributed to this campaign! We could not have done it without you! The spark ignited the flame and rocketed into a raging fire of love. May Hashem repay each and everyone of you with tenfold blessings, physically and spiritually.
We are grateful for the many beautiful messages & testimonials shared with us that may be reviewed here.
The giving party continues! Although the #SparkaStory donations will no longer be matched, please consider making your year-end donation at www.chabaduptown.org/donate, supporting the work of Chabad of Uptown and YJP Houston!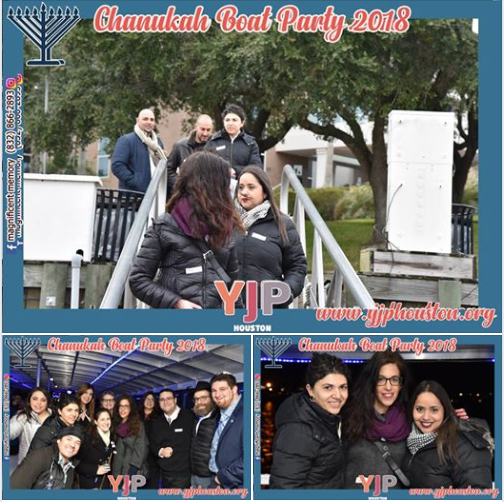 The closing of Chanukah was epic, celebrating a Shabbat Chatan with the Melnik and Busany families and ending with the YJP Houston Chanukah Boat Barty. Awesome pics here!
Today, Thursday, Tevet 5 is celebrated as a day of rejoicing in the Chabad-Lubavitch community. On this date in 1987, U.S. Federal Court issued a decision in favor of Agudas Chassidei Chabad regarding the ownership of the priceless library of the 6th Rebbe of Chabad-Lubavitch, Rabbi Yosef Yitzchak Schneersohn. The ruling was based on the idea that a Rebbe is not a private individual but a communal figure synonymous with the body of Chassidim. The Lubavitcher Rebbe (Rabbi Yosef Yitzchak's son-in-law and successor) urged that the occasion be marked with time devoted to study from Torah books ("sefarim") as well as the acquisition of new Torah books. Links: Books with Souls, The Rebbe's Library, Chabad.org online library
This coming Tuesday, Tevet 10 is observed as a day of fasting, mourning and repentance, in remembrance of the siege of Jerusalem. We refrain from food and drink from daybreak to nightfall (5:51 am-5:52 pm in Houston), and add the Selichot and other special supplements to our prayers. (More recently, Tevet 10 was chosen to also serve as a "general kaddish day" for the victims of the Holocaust, many of whose day of martyrdom is unknown.) Complete service schedule below.

PARSHA: Can We Tolerate Tolerance?
Has someone accused you of lacking tolerance and in the process became intolerant toward you? more…
Shabbos Parshas Vayigash
Friday, December 14
Candle Lighting at 5:06 pm
Mincha Services at 5:05 pm
Study of Timeless lessons of the Rebbe
Kabbalat Shabbat Services at 6:30 pm
RSVP for Shabbat Dinner
Shabbos, December 15
Chassidus at 9 am
Services at 10 am
Followed by Shabbos Kiddush sponsored by the Pfrenger family in honor of Jessica Pfrenger
Mincha at 5:05 pm
Shiur in Halachot
Maariv, Havdalla & Shabbos Ends at 6:03 pm
Living Torah
Sunday, December 16 - Shacharis at 8:30 am
Monday, December 17 - Shacharis at 6:45 am
Tuesday, December 18, Fast of 10 Teves
Fast Begins 5:51 am
Shacharis at 6:45 am
Mincha at 5:00 pm
Maariv and Fast Ends at 5:52 pm
Thursday, December 20 - Shacharis at 6:45 am
Have a good Shabbos!
Rabbi Chaim & Chanie
Follow us on Facebook, Twitter & YouTube @youngchabad!