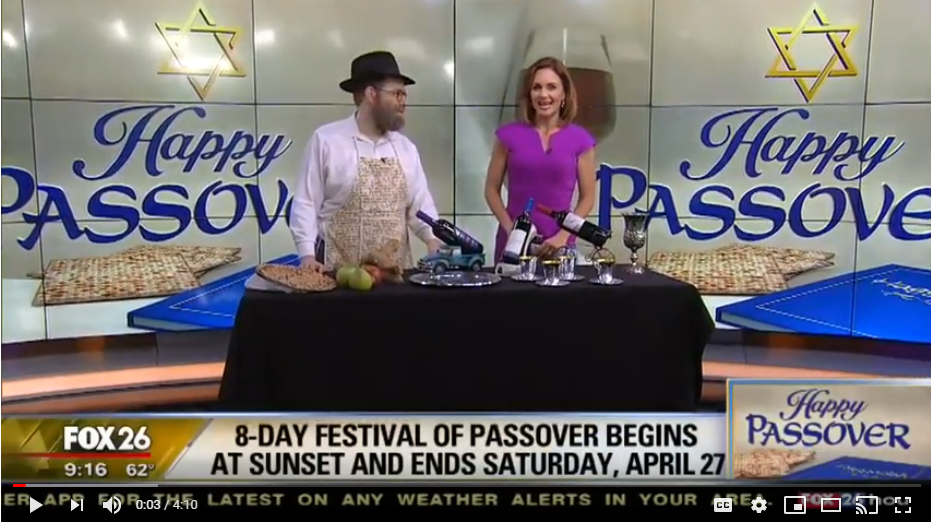 APRIL 25: Hey Kids! Win a 7 speed mountain bike at the Jewish Children's Passover Rally at Main Event, Thursday 10:30 am!
APRIL 25-27: Just when you thought you had seen it all! The final days of Passover, emphasizes an even higher Freedom! The final day, this Shabbos, is dedicated to our imminent and final redemption.
Here are the highlights:
We make an Eruv Tavshilin so we can cook on Friday for Shabbos
We stay up all night learning Torah on Thursday night
We read the celebratory "Song of the Sea" on Friday morning
We recite yizkor for departed loved ones on Shabbos morning
We have a "Feast of Moshiach" on Shabbos afternoon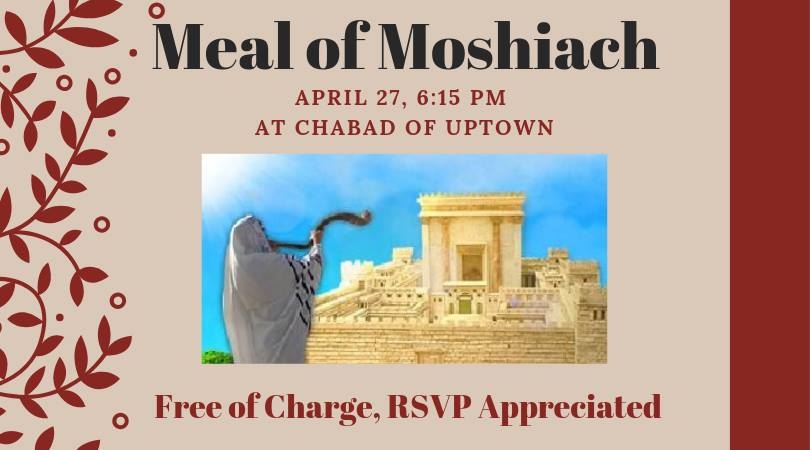 APRIL 27: Hey Community! Following the custom of the Baal Shem Tov, founder of Chassidism, Passover concludes with a "Feast of Moshiach." This festive meal complete with Matzah and, yes, four cups of wine, begins before sunset. It is the perfect way to spiritually take leave of Passover and open our consciousness to the coming redemption.
Oh, and have a laugh watching Sally MacDonald from FOX26 call Rabbi out on his "silver" Seder Plate and learn the reason for the "custom" of a high heel at the seder!
MAY 3: Hey YJPs! YJP Houston brings the Chametz back with First Friday of May - Cinco de Shabbat on May 3! Masterminded crafted menu by the one and only Ian Zlotnik with "The ciIANco de Shabbat Menu": Fajitas, Guacamole, Cilantro rice, Salsa, Chicken tortilla soup, Grilled corn, Bean Salsa, Churros, Non dairy flan & Margaritas! RSVP
MAY 5: Hey Caring Citizens! Do you know how to recognize the onset of or respond to a Mental Health problem? Get certified training on May 5 at Chabad of Uptown! Mental Health First Aid teaches a 5-step action plan to offer initial help to people showing signs of a mental illness or in a crisis, and connects them with the appropriate professional, peer, social, or self help care. Anyone can take the 8-hour Mental Health First Aid course, but it is ideally designed for adults — teachers, coaches, leaders of faith communities, social workers, and other caring citizens. Special supplement on Opioid Response! For the opioid supplement you must register for the Chabad of Uptown location at http://bit.ly/2Sip9Wc.
MAY 10-12: Hey Teens! Join CTeen chapter from Across Texas for a Shabbaton on Campus! Register before May 1 and save $10 on registration! https://www.cteen.com/texas
We wish our heartfelt condolences to Benny (& Valerie) and Sharon Katz on the passing of their father Yehudah (Yuri) Katsobashvili in Israel.
We are elated to wish a great big Texas sized and Uptown hearted Mazel tov to Michael Pasternak and Maxine Epstein on their engagement!
Have a Good Yom Tov,
Rabbi Chaim & Chanie
Last Days of Pesach Schedule
Wednesday, April 24 | Day 5
Maariv & Omer Count 8:30 pm
Class in Talmud Sotah Pg. 4
Thursday, April 25 | Day 6
Morning Service
7:30 am
Make Eruv Tavshilin
Evening Service
7:35 pm
Candle Lighting
7:37 pm
Friday, April 26 | Day 7
Late Night Torah Study
including Talmud Sotah Pg. 5-7
12:00 am (Thurs. Night)
Morning Service
10:00 am
Evening Service
7:35 pm
Candle Lighting
BEFORE 7:38 pm
Saturday, April 27 | Day 8
Morning Service
10:00 am
Yizkor Memorial Service
11:15 am
Mincha Service
5:45 pm
Moshiach Meal
6:15 pm
Evening Service
8:34 pm
Holiday Ends
8:34 pm