This Shabbos is 17 Tammuz, that marks the beginning of The Three Weeks period of mourning which culminates on the 9th of Av, commemorating the conquest of Jerusalem, the destruction of the Holy Temple and the dispersion of the Jewish people.
Tammuz 17 was instituted as a fast day. This year, however, the actual fast is held on Sunday, due to the holiness of Shabbos.
Shabbos is a taste of a perfected world, where it is all transformed to holiness, the way it will be when Moshiach comes. This year we get to taste a transformed fast day of 17 Tammuz on Shabbos, while it is actually observed on the next day, Sunday.
May we merit to witness the completely transformed world, with the coming of Moshiach, Amen!
---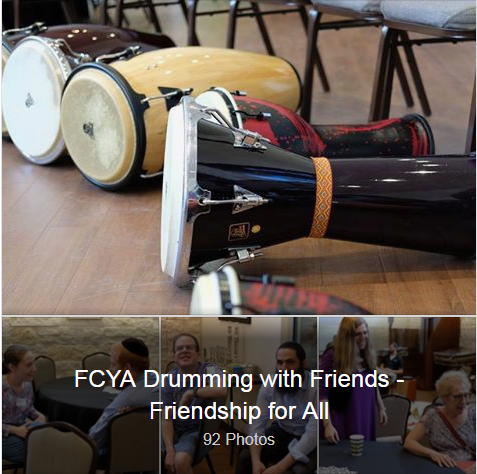 This past Sunday we had a truly remarkable event when volunteers of YJP Houston - Young Jewish Professionals Houston joined with FCYA (Friendship Circle of Houston – Young Adults) for a drum circle with Young Adults with disABILITIES for fun, camaraderie and integration!
CALENDAR OF JULY EVENTS:
---
Friday night dinner sponsored by Seth & Rivka Weisberg
Kiddush lunch sponsored by Israel Lachovsky and Helena Barker
---
Shabbos Parshas Balak
Friday, June 29, 16 Tammmuz
Services at 7:30 pm | RSVP for Shabbat Dinner
Candle Lighting at 8:08 pm
Shabbos, June 30, 17 Tammuz
Chassidus at 9:00 am
Services at 10 am
Followed by Shabbos Kiddush & Farbrengen
Mincha at 8:05 pm
Ethics of our Fathers, Ch. 6
Maariv, Havdalla & Shabbos Ends at 9:07 pm
Living Torah
Observance of Three Week period of mourning begins
Sunday, July 1, Fast of 17 Tammuz (observed)
Fast Begins 4:55 am
Shacharis at 8:30 am, with Torah Reading
Mincha at 7:45 pm, with Torah Reading
Fast Ends & Maariv at 8:54 pm
Light Refreshments
Monday, July 2, 19 Tammuz - Shacharis at 6:45 am
Rabbi Chaim 19 Tammuz birthday Men's farbrengen at 7:30 pm
Thursday, July 5, 22 Tammuz - Shacharis at 6:45 am
Have a good Shabbos!
Rabbi Chaim & Chanie