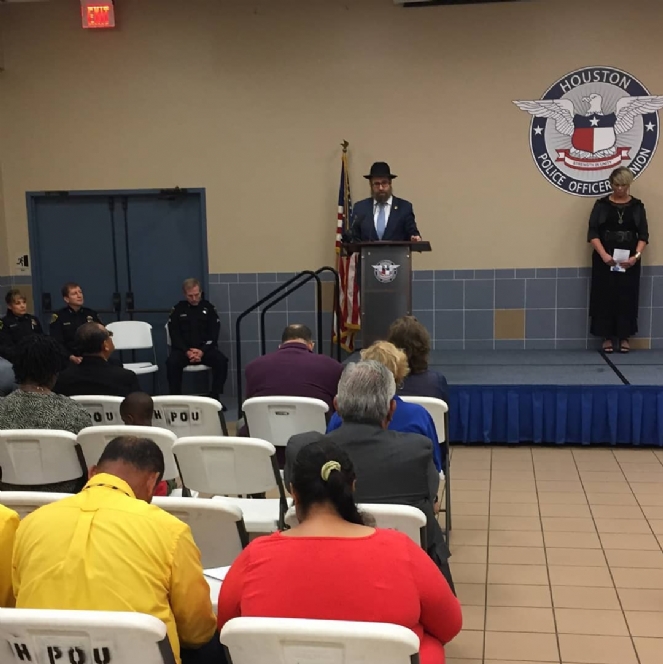 I was at the Houston Police Department last Friday, as events and facts were unfolding of the Santa Fe High School shooting. By divine providence, planned for the very same time, I was honored to once again offer prayers on behalf of the Jewish community at the HPD National Day of Prayer. "May Hashem provide peace and harmony to the families of the first responders, especially retired HPD Police Officer Barnes hurt and lifelighted from Santa Fe ISD, may they come home in peace to their families' embrace".
What an amazing Shavuos with overflowing crowds for all night learning, 10 commandments and, of course, cheesecake! Shavuos, the day we mark the receiving of the Torah at Mt. Sinai and receive once again, for the very first time, each year - is the proper time to take upon oneself to commit to (additional) learning of Torah. B'H, at Chabad of Uptown, you have many Torah study options to choose from!
---

One Talmudic opinion suggests that because the nazirite denies himself the pleasure of drinking wine, he is considered "sinful." But why should it be wrong to deny oneself anything? more...
---

Shabbos Parshas Naso
Friday, May 25
Services at 7:30 pm
Candle Lighting at 7:56 pm | RSVP for Shabbat Dinner sponsored in part in honor of the wedding of Michael Klein and Codi Robertson
Shabbos, May 26
Chassidus at 9:00 am
Services at 10 am
Followed by Shabbos Kiddush
Mincha at 7:55 pm
Ethics of our Fathers, Ch. 1
Maariv, Havdalla & Shabbos Ends at 8:54 pm
Living Torah
Sunday, May 27 - Shacharis at 8:30 am, Followed by the real BLT = Bagels, Lox & Tefillin
Monday, May 28 - Shacharis at 8:30 am (Memorial Day)
Thursday, May 31 - Shacharis at 6:45 amHave a good Shabbos!
Rabbi Chaim & Chanie