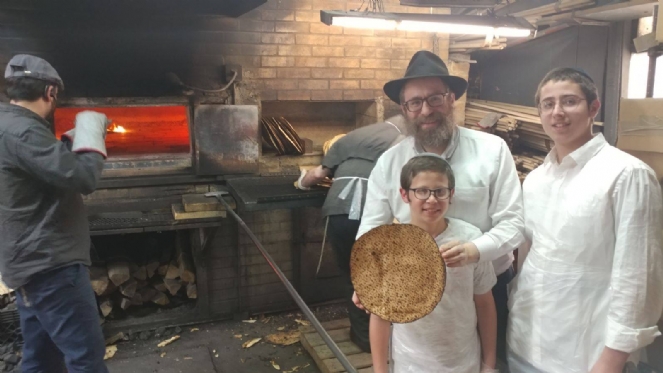 Dear Uptown community and friends,
In every generation, we consider how we ourselves left and are leaving Egypt.
As we sit down to our seders this year we reflect on the year behind and ahead of us.
What has been holding us back from being the best we can be? What "Egypt" can we break out of to achieve our own personal "Freedoms".
At this time, we wish you and yours a Happy and Kosher Pesach, a year filled with brilliant success in all of your endeavors, freedom from whatever may be holding us back, both physically and spiritually.
Rabbi Chaim, Chanie & Clan
---
We had a busy week, preparing for Pesach rest.
Sunday, we hosted the Israeli House Houston for the Model Matzah Bakery (in Hebrew of course). :)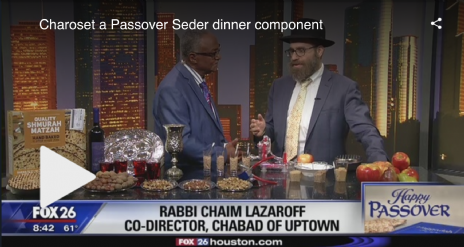 JHV Featured Rabbi Chaim's Ten tips and meditations for a Post-Harvey Passover.
Working hard, for the holiday of freedom.
Using grains, to make Pesach Matzah
Mendel and Levi joined as well and to visit the Ohel for 11 Nissan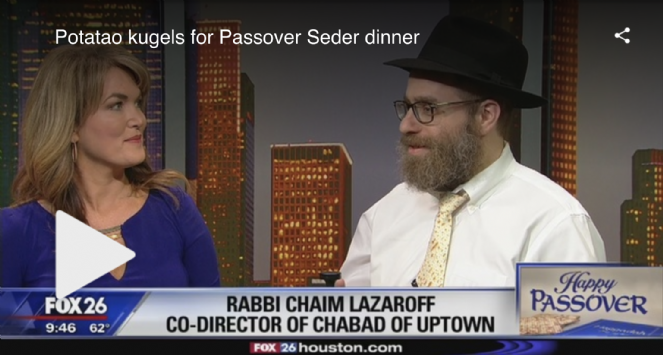 All 50 States and scores of cities declare Education Day honoring the Rebbe
Including Houston Mayor Sylvester Turner and Texas Governor Greg Abbott
Talking about, the gift of silence.
See Rabbi Chaim's column, this week in the Houston Chronicle & JHV.
Walla Hebrew News media included Chabad of Uptownin the recap of Seder preparation around the world.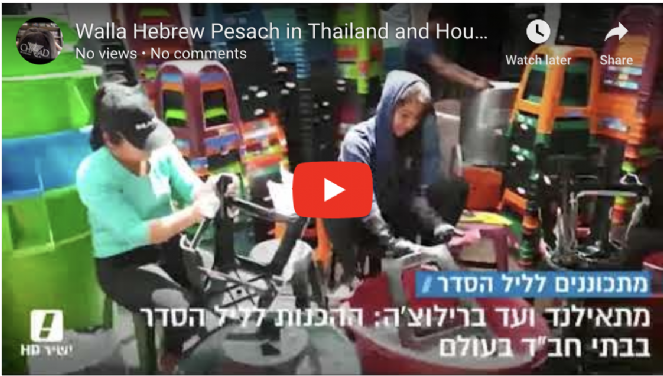 Virtual cooking on TV, real food to share and for me.
Fox 26 Morning News, Charoset with Jose Grinan at 8 am and Pesach Kugel with Sally MacDonald, Melissa Wilson and Tom Zizka at 9 am
Feeling every muscle, that hurts so good,
The body is working, but the soul is at rest
---
Pesach First Days & Chol Hamoed
Customs, Candle Lighting & Service Schedule
Friday, March 30 | Passover Eve
Shacharit Service
 6:45 am
Followed by Siyum for Fast of Firstborn
Eat Chometz Until 11:21 am
Burn Chometz by 12:23 pm
Candle Lighting 7:21 pm
Evening Service 7:30 pm
Communal Seder 8:30 pm
Saturday, March 31 | Day 1
Morning Service 10:00 am
Teffilat Tal - Prayer for Dew
Followed by Shabbos & Pesach Kiddush
Evening Service 7:20 pm
Counting of the Omer
Light Candles after 8:16 pm
Communal Seder 8:45 pm
Sunday, April 1 | Day 2
Morning Service 10:00 am
Followed by Shabbos & Pesach Kiddush
Evening Service 7:20 pm
Maariv, Omer Count, Havdalla and Holiday Ends 8:16 pm
Living Torah
Chol Hamoed April 2 - 5 | Days 3 - 6
Morning Service 6:45 am
Have a good Shabbos and Happy & Kosher Pesach!
Rabbi Chaim & Chanie