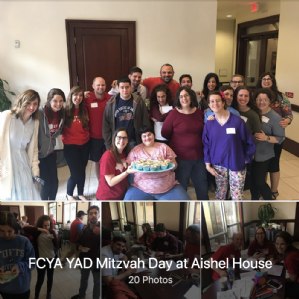 It is inspiring to see the long lines of people doing their civic duty this week at the polls. Traditionally mid term elections aren't as well represented. Why are record breaking numbers showing up at the polls? It is obvious that, this year, people are passionate about issues and making sure their voices are heard.
Perhaps we should consider all year long, what are we Jewishly passionate about? Are we making our voices heard? Does Hashem hear the sounds of Torah study, prayer and calls for Moshiach rising from our homes and Shabbos tables?
This year, let's be passionate about - and vote for - Moshiach, now!
☞ Check out and vote for your favorite pic in the photo albumfrom last Sunday when Young professionals and young adults with FCYA (Friendship Circle of Houston - Young Adults) with disABILITIES came to work together at Aishel House to create "Food for Friends". YAD Houston Volunteers prepared soup, breads and dessert in the Aishel House kitchens for patients and their families staying at Aishel House or nearby hospitals at the Texas Medical Center.
UPCOMING EVENTS:
Oct 28: Last chance to register to vote for your favorite soup this Sunday! www.chabaduptown.org/supersoup learn nutrition, enjoy mushroom barley, pea and chicken soups and have a great time! Thank you to all the Super Sponsors!
Nov. 2: Next week vote for Chanie's amazing cooking at YJP Houston's First Fridays - Fall edition! Celebrate Shabbat over Fall comfort food with other Young Jewish Professionals! www.yjphouston.org/events/fallshabbat
Nov. 9-11: Vote for teens! CTeen Texas Regional Shabbaton in S. Antonio!
Nov. 11: Vote for our team at the Friendship Walk! Walking fun for the whole family for a great cause on a Sunday!
Dec. 3 & 9: Save the dates with your vote of confidence in our Chabad of Uptown signature Chanukah events!

Monday, Second Night of Chanukah, December 3 - Community Post Oak Menorah Celebration - Sponsored in part by Post Oak Bank
Sunday, Eighth Night of Chanukah, December 9 - YJP Houston Chanukah Boat Party - Sponsorship opportunities available

Why Is Inviting Guests Such a Mitzvah?
Bringing people into our space can be quite exposing and maybe even embarrassing, but it is one of the greatest forms of kindness and the epitome of sharing our bounty. more…
Shabbos Parshas Vayeira
Friday, October 26
Candle Lighting at 6:22 pm
Services at 6:30 pm | RSVP for Shabbat Dinner
Shabbos, October 27
Chassidus at 9:00 am
Services at 10 am
Followed by Shabbos Kiddush sponsored by the Shamooelian family in honor of Tziyon Moshe's birthday
Mincha at 6:25 pm
Class in Laws of Yichud
Maariv, Havdalla & Shabbos Ends at 7:15 pm
Living Torah
Sunday, October 28 - Shacharis at 8:30 am, Followed by the real BLT = Bagels, Lox & Tefillin
Monday, October 29 - Shacharis at 6:45 am
Thursday, November 1 - Shacharis at 6:45 am
Have a good Shabbos!
Rabbi Chaim & Chanie