Looking forward to an amazing week at Chabad of Uptown and YJP Houston! Please join us! See complete schedule below!
We have some amazing Purim events in store for you, stay tuned for more details!
This week's Torah reading contains the "song at the sea" sung by the Children of Israel upon their deliverance from the Egyptians, when the Red Sea split to allow them to pass and then drowned their pursuers. Hence this Shabbat is designated as Shabbat Shirah, "Shabbat of song."

Our sages tell us that the birds in the sky joined our ancestors in their singing; for this reason it is customary to put out food for the birds for this Shabbat (to avoid the possibility of transgressing the laws of Shabbat, the food should be put out before Shabbat). Links: The Chassidic Masters on song; Miriam's song
Wednesday is Tu B'Shevat which marks the beginning of a "New Year for Trees." This is the season in which the earliest-blooming trees in the Land of Israel emerge from their winter sleep and begin a new fruit-bearing cycle.

Legally, the "New Year for Trees" relates to the various tithes that must be separated from produce grown in the Holy Land. We mark the day by eating fruit, particularly from the "Seven Kinds" that are singled out by the Torah in its praise of the bounty of the Holy Land (wheat, barley, grapes, figs, pomegranates, olives and dates). On this day we remember that "Man is a tree of the field" (Deuteronomy 20:19) and reflect on the lessons we can derive from our botanical analogue. For more on Tu B'Shevat go here.

Join the Tu B'Shvat Floral Workshop & Social at River Oaks Plant House! www.chabaduptown.org/floral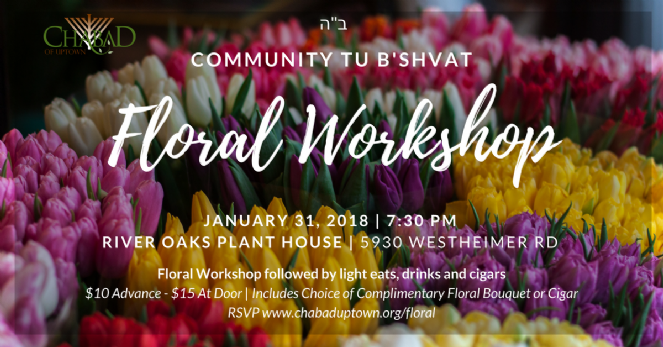 Shabbos Shira, Parshas Beshalach
Friday, January 26
Candle Lighting and Mincha at 5:36 pm
Kabbalat Shabbat Services at 6:30 pm
Shabbos, January 27
Chassidus at 9:00 am
Services at 10 am
Followed by Shabbos Kiddush & Farbrengen
Mincha at 5:35 pm
Maariv, Havdalla & Shabbos Ends at 6:33 pm
Living Torah
Sunday, January 28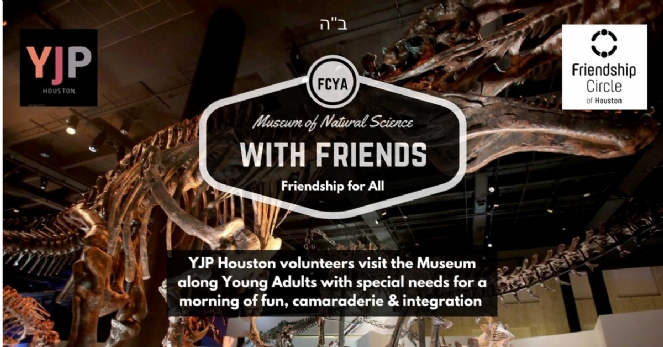 Shacharis at 8:30 am
Followed by the real BLT = Bagels, Lox & Tefillin
FCYA - goes to the Museum at 10:30 am - RSVP required
Monday, January 29
Shacharis at 6:45 am
Tuesday, January 30
Parsha Class at 12 pm
JLI Course on Communication at 7:30 pm
Wednesday, January 31 - Tu B'Shvat
Community Floral Workshop - RSVP Required - at 7:30 pm
www.chabaduptown.org/floral
(YJP class will be combined with the community floral workshop)
Thursday, February 1
Shacharis at 6:45 am
Chassidus at 12 pm
Chassidus at 8 pm
Have a good Shabbos!
Rabbi Chaim & Chanie