Sigh.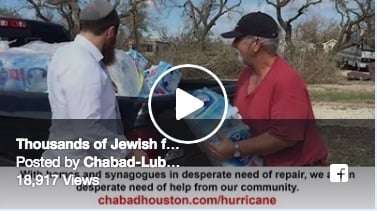 I can't believe our community has to face another devastating disaster is such a short period of time. Our hearts and minds, souls and soles, muscles and smiles have been a small way to show our embrace for those who have been affected by the storm Harvey, a storm of incomprehensible proportions.
Smile!
On that note, and at the same time, an incomprehensible proportions of support have been shown from around the world supporting the efforts of our local 11 Chabad centers, their Shluchim couple leaders, empowering an army of over 500 volunteers clocking 1000's of hours, to try to reach everyone who needed to be shelter in place, providing emergency kosher warm meals to those evacuated to hotels and shelters, replacing the kosher meat and food no longer available, emergency replacements supplies of food and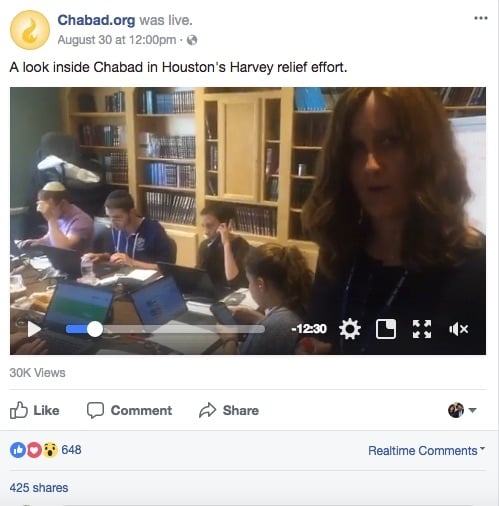 cleanup materials, with support from all over the world, all the while while the Rabbis themselves were stranded in their homes - what better time is there than write a hurricane diary? As soon as the water receded enough, relief trucks started flowing down to Houston with many convoys to follow. It even postponed a wedding but didn't stop the bride and groom to show love for others and CTeen helped with supplies, cleanup and challah for Shabbos! Now that the cleanup effort has begun in earnest, the children needed a place to go - for a pop up camp! The world over is watching as reported by media worldwide, and it has never been a greater time to have so much pride in our local, statewide, national and international Jewish community!
Compassion.
Do you need help? Do you want to help? Please sign up at chabadhouston.com/relief
THERE ARE MANY HOMES THAT MUST BE REACHED ASAP TO HELP PACK OUT! We need your help now, most importantly, to reach them to show our compassion and love throughout the greater Houston Metropolitan area! Please register at chabadhouston.com/relief and / or just show up at central command 11000 Fondren Rd. at 9 am Friday, Sunday and Monday to help this massive cleanup effort!
Join young Jewish professionals from Austin, Dallas Houston and S. Antonio as we go out in force to help the massive cleanup effort and show compassion to our our neighbors throughout the greater Houston area. Sign up to volunteer at chabadhouston.com/relief
Support the #ChabadHarveyRelief effort, by clicking here.
---
We can all use an island in time to celebrate Shabbat together, for this month's YJP First Fridays! As many have been displaced, YJP Houston will host many community members for Shabbat dinner as well! Join us!
---
Mazel tov to the Shwartz family on this weekend's bar mitzvah at Chabad of Uptown with Chabad Chai Learning Center of West Houston.
---
PARSHA:

The Barren Woman and the Waters of Noah: A commentary on the haftarah of Ki Teitzei
The haftarah begins: "Sing, barren one who has not given birth." Who is the "barren one"?

---
Shabbos Parshas Ki Seitzei
Friday, September 1
Candle Lighting at 7:26 pm
Services at 7:30 followed by First Fridays and Community Dinner - Please RSVP
Shabbos, September 2
Chassidus at 9 am
Services at 10 am
Followed by Shabbos Kiddush & Farbrengen sponsored by Ben & Regina Shamooelian in honor of Chanie
Mincha at 7:25 pm
Maariv, Havdalla & Shabbos Ends at 8:19 pm
Living Torah
Sunday, September 3
Shacharis at 8:30 am
WE NEED YOUR HELP!!! Show up to central command, 11000 Fondren Road, opens at 9 am, to be dispatched to a location to help the massive cleanup effort! Sign up at chabadhouston.com/relief.
Have a good Shabbos!
Rabbi Chaim & Chanie