Rivky came home from Camp! It's a great feeling of family when the kids start coming home after being gone for a while...
This Shabbos is called Shabbat Chazon ("Shabbat of Vision") named after the opening words of the day's Haftorah reading. On this Shabbat, say the Chassidic masters, we are granted a vision of the Third Temple; we may not see it with our physical eyes, but our souls see it, and are empowered to break free of our present state of galut and bring about the Redemption and the rebuilding of the Temple. May it be speedily! Links: The Holy Temple: an Anthology, Shabbat of Vision About the " Three of Rebuke" http://www.thethreeweeks.com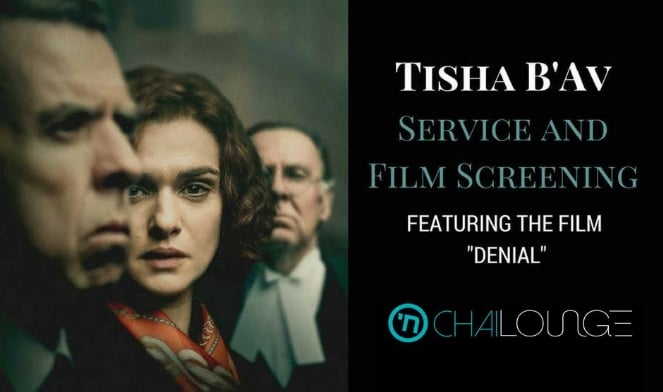 On Monday night, July 31, Erev Tisha B'av, all are welcome to join us for the traditional Eichah (Book of Lamentations) reading followed by a film screening of a thought provoking, contemporary film. Featuring the critically acclaimed film "Denial": When university professor Deborah E. Lipstadt includes World War II historian David Irving in a book about Holocaust deniers, Irving accuses her of libel and sparks a legal battle for historical truth. With the burden of proof placed on the accused, Lipstadt and her legal team fight to prove the essential truth that the Holocaust occurred. Based on the book "History on Trial: My Day in Court with a Holocaust Denier."
Tisha B'av is observed this Monday night and Tuesday. The final meal before the start of the fast, eaten shortly before sunset, is called seudah hamafseket. Only one cooked food is eaten at this meal, customarily an egg dipped in ashes. During this fast, that begins in Houston at 8:15 pm on Monday. we abstain from eating and drinking, bathing, the wearing of leather footwear, and marital relations. It is customary to sit on the floor or a low seat until after mid-day on Tuessday. Torah study is restricted to laws of mourning, passages describing the destruction of the Temple, and the like. The tefillin are worn only during the afternoon Minchah prayers. For the complete Tisha B'av schedule, see below. Link: Laws of Tish'ah B'Av

In observance of Tisha B'av the weekly Tuesday Parsha class will be held instead on Wednesday.
---
3 Lessons You Can Learn From My Stutter
You know what to say, your listener is waiting patiently, but you simple cannot … Get. The. Words. Out. more...
---
You can still get a free entry into the raffle offered at The White Party on Aug. 5! Buy your ticket by Aug. 1 at www.yjphouston.org and enter to win either two nights at Galveston by The Sea, win a free business profile and three month advertisement (a $1,040 value!) in the Jewish Herald-Voice's NEW FEATURE - YJP NETWORK and more prizes!
Kiddush this week is sponsored by Rachel & Elliott Levine in honor of the Lazaroffs.
Shabbos Chazon, Parshas Devarim
Friday, July 28
Services at 7:30 pm
Candle Lighting at 7:59 pm
Shabbos, July 29
Chassidus at 9 am
Services at 10 am
Followed by Shabbos Kiddush sponsored by Rachel & Elliott Levine in honor of the Lazaroffs
Mincha at 8:00 pm
Ethics of our Fathers, Ch. 3
Maariv, Havdalla & Shabbos Ends at 8:55 pm
Living Torah
Sunday, July 30
Shacharis at 8:30 am
Followed by the real BLT = Bagels, Lox & Tefillin
Monday, Erev Tisha B'Av, July 31
1:28 pm Refrain from regular Torah study
8:15 pm Tisha Ba'av Fast & Mourning Customs Begins
8:40 pm Maariv
9:00 pm Eicha Reading (Lamentations) followed by
9:30 pm "Denial" film and discussion.
Tuesday, Tisha B'av, August 1
6:45 am Shacharis with Torah Reading
7:45 am Kinos - Lamentations
1:28 pm Midday - Resume sitting normally
7:30 pm Mincha – Talis, Tefillin, Krias HaTorah
8:41 pm Maariv, Havdalla & Fast Ends
Kiddush Levanah
Have a good Shabbos!
Rabbi Chaim & Chanie