Chanukah Flash Sales! Get advanced tickets before they expire to save on the Chanukah events!
---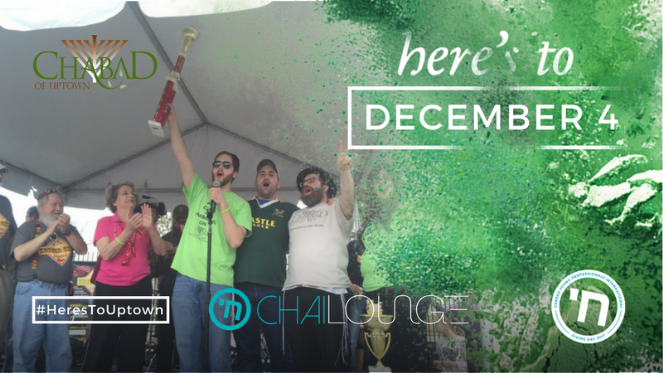 December 4 & 5, will be a special 28 hours for Chabad of Uptown where you can make a difference, supporting all the great work you do for the community. Please keep tabs on your emails and social media to do your part. Please let us know if you would like to be part of the volunteer cheering squad at Chabad of Uptown between 10 am-2 pm on Monday, Dec. 4 and Tuesday Dec. 5 and / or Monday Dec. 4 in the evening, 6-9 pm. Please reply with the hours you can join.
---
Mazel tov to Tamar and Shlomi Ratchovski on a birth of a baby boy!
---
Shabbos Parshas Vayishlach
Friday, December 1
Services at 6:30 pm
Candle Lighting at 5:04 pm
Shabbos, December 2
Chassidus at 9:00 am
Services at 10 am
Followed by Shabbos Kiddush & Farbrengen
Mincha at 5:05 pm
Maariv, Havdalla & Shabbos Ends at 6:00 pm
Living Torah
Sunday, December 3
Shacharis at 8:30 am
The real BLT = Bagels, Lox & Tefillin
Have a good Shabbos!
Rabbi Chaim & Chanie