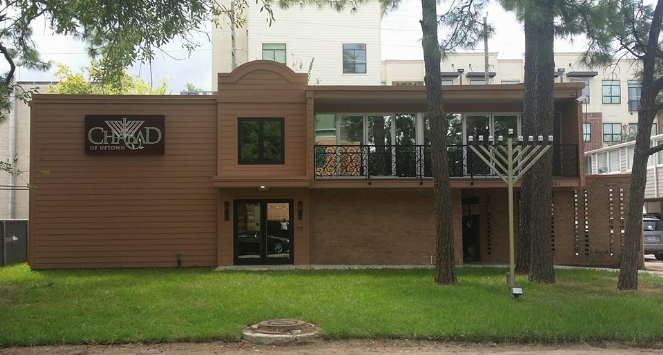 Dear friends and family,
We are so delighted to share this New Year with each and every one of you, in our new shul, in the center of the hottest area of town.
Please stop for a moment and think of someone who may not yet have a place to daven and shoot them this link for free, inspiring and meaningful services.
We now have on site handicap parking. There is ample street parking around Chabad of Uptown as well as remote parking at River Oaks District (fourth floor of the garage) and at Prosperity Bank. Click here for a map and more details.
We wish you and yours a year filled with prosperity and uplifting new beginnings. Health and nachas from you and yours with only good things headed your way.
May you have a Kesiva Vachasima Tova, May you be written and inscribed for a good, sweet New Year,
Rabbi Chaim & Chanie
---
Hayom Yom, 25 Elul: The Alter Rebbe related: When I was in Mezritch I heard from my Rebbe, the Maggid, in the name of the Baal Shem Tov: The seventh month (Tishrei), first of the months of the year, is blessed by G‑d Himself, on Shabbat mevarchim - last Shabbat in the month of Elul. With this power Israel blesses the other months eleven times a year.
---
Now is the time to purchase your Lulav & Esrog for Sukkot! We are only taking orders in advance. Please click here to make your order. Make sure to "add binding" if you want it assembled for you.
---

Shimon Peres, 93, Proclaimed Centrality of Judaism to Israel and the Jewish People
Leading figure in Israeli politics sought Rebbe's guidance over decades. more...
---
Shabbos Mevarchim (by Hashem), Parshas Nitzavim
Friday, September 30
Services at 6:45 pm
Candle Lighting at 6:50 pm
Shabbos, October 1
Shabbos Mevarchim Tehillim at 8:30 am
Services at 10 am
Followed by Shabbos Mevarchim Kiddush & Farbrengen
Mincha at 6:50 pm
Maariv, Havdalla & Shabbos Ends at 7:42 pm
Living Torah
Sunday, October 2 - Erev Rosh Hashana
Selichot 8:00 am
Shacharit 8:45 am
Hataras Nedarim following Shacharis
BLT = Bagels, Lox & Tefillin at 9:30 am
Rosh Hashana Evening Service 6:45pm
Light Holiday Candles at 6:47pm
Children's Program 6:45-7:45pm
Rosh Hashana Dinner - RSVP 7:45pm
Monday, October 3 - Rosh Hashana 1st Day
Morning Services at 9:30am
Children's Program 11:00am-1:30pm
Shofar Sounding Approx. 12:30pm
Kiddush Lunch - RSVP 2:00pm
Mincha & Family Tashlich Service 6:15pm
Evening Service 7:15pm
Light Holiday Candles AFTER 7:40 pm
Rosh Hashana Dinner - RSVP 7:45pm
Tuesday, October 4 - Rosh Hashana 2nd Day
Morning Services 9:30am
Children's Program 11:00am-1:30pm
Shofar Sounding 12:30pm
Kiddush Lunch - RSVP 2:00pm
Evening Service 6:45pm
Havdalla & Yom Tov Ends 7:38pm
Have a good Shabbos!
Rabbi Chaim & Chanie