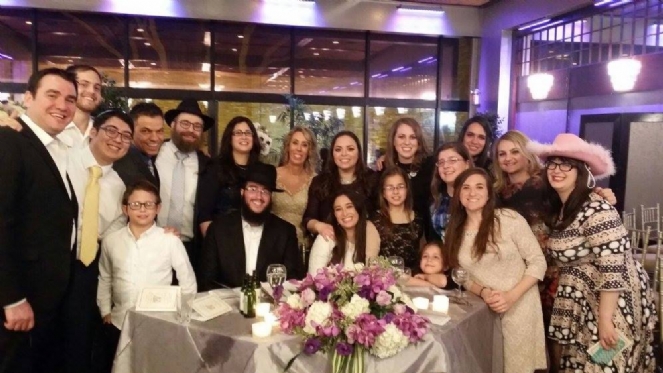 What a truly joyous week with many simchos!
Sunday night we had the wonderful time at Rachel and Eliot Levine's wedding.... A group of people joined us from Houston.
Chanie also got to join some family at the ohel for her nephew's upshernish. Mazel tov to Mushkie and Yossi Bendett!
---
Purim was off the hook! Here are some stats:
6 "Purim Hour" parties
6 kids carnival activities
7 (multimedia) Megillah readings
7 piece band
8 yogurt bar breakfast toppings
40 pounds brisket
40 seniors had Purim cheer with 9 iVolunteers.
56 hotdogs
60 kreplach
1000 hamantashen
7000 sq foot mansion
$2,300,000 home
For hundreds of children, adults, young professionals and seniors celebrating Purim with Chabad of Uptown Purim Hour, each with their own tailor made Party! Some highlight photos here.... More pics next week.
This Shabbos we will host sheva brachos for the new young couple. Please reply to this email to let us know if you will be joining us Friday night dinner or Shabbos lunch. A special thank you to the Weisberg and Melnik families for helping sponsor the Sheva Brachos.
Stay tuned for Pesach seder info next week......
Shabbos Parshas Tzav
Friday, March 25
Candle Lighting at 7:19 pm
Services at 7:30 pm
Shabbos, March 26
Chassidus at 9 am
Services at 10 am
Followed by Shabbos Kiddush
Mincha at 7:20 pm
Maariv, Havdalla & Shabbos Ends at 8:13 pm
Living Torah
Sunday, March 27
Shacharis at 8:30 am
BLT = Bagels, Lox & Tefillin at 9 am
Have a good Shabbos!
Rabbi Chaim & Chanie
Follow us on Facebook, Twitter & YouTube @youngchabad!