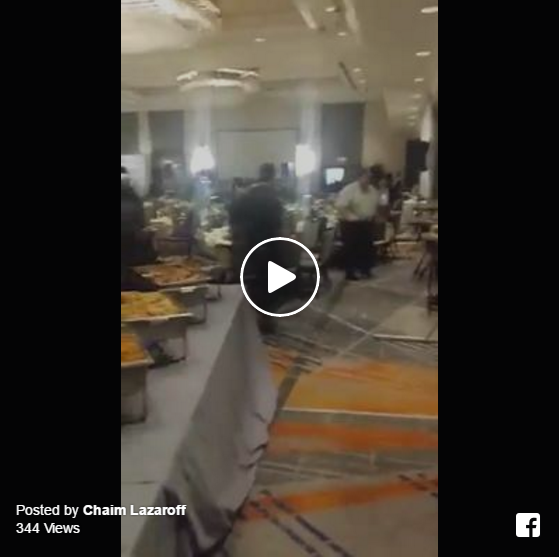 Israel is on fire, our homeland is in flames and our hearts are burning with emotion and love for the Holy Land. We are thankful and pray that Hashem protect the people of Israel, the brave firefighters, and the countries that have sprung to action to assist Israel at our time of need.
At the Kinus lunch today, the Internation Conference of Chabad Lubavitch Emmisaries, Rabbi Yehuda Donin, the shliach to the city of Haifa lead the thousands of Shluchim in tehillim to ask Hashem to protect our people and our land.
Each year the conference is a meaningful time to connect and inspire ourselves and each other. Amazingly, although I have participated in many such gatherings, each year presents a new inspiring moment, creative idea, resolved charge that is unique and special for that year. I took a short live tour to get a glimpse into what the halls of the kinus feels like.
Join Chanie, as we broadcast the Kinus banquet live on Sunday at 5 pm Houston time on the new large screen at Chabad of Uptown. Light refreshments will be served. Please reply to this email to let know to expect you.
Rabbi Avrami Fishman, and a few other surprise guests, will be joining Chabad of Uptown for Shabbos and services will be held at the scheduled times, like always!
This Thursday is Rosh Chodesk Kislev! Of course, we will have our regular monthly minyan at 6:45 am! Please let us know if we can count on you for the minyan!
Next Shabbos is YJP Houston, First Fridays Shabbat Dinner & Cocktails! Please let us know to expect you!
The Chanukah YJP and community events are published!


Shabbos Mevarchim Kislev, Parshas Chayei Sarah
Friday, November 25
Services at 6:30 pm
Candle Lighting at 5:05 pm
Shabbos, November 26
Shabbos Mevarchim Tehillim at 8:30 am
Services at 10 am
Followed by Shabbos Mevarchim Kiddush & Farbrengen
Mincha at 5:05 pm
Maariv, Havdalla & Shabbos Ends at 6:01 pm
Living Torah
Sunday, November 27
Shacharis at 8:30 am
The real BLT= Bagels, Lox & Tefillin at 9 am
Thursday, December 1
Shacharis at 6:45 am
Followed by breakfast!
Have a good Shabbos!
Rabbi Chaim & Chanie