The JHV opening paragraph on its front page upper half story this week, basically sums it up: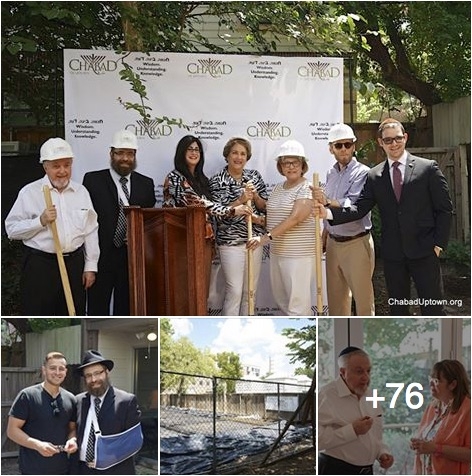 A groundbreaking ceremony for Chabad of Uptown was held on a warm Sunday afternoon, Aug. 23, amid clear skies. More than 200 people attended, demonstrating their support for the newly expanded facility. Read more >
You can view our official photo gallery here. More pictures will be added.
We have received great feedback and interest in our unique High Holidays a la carte setup this year. We hope you will join us at the DoubleTree Suites! Complete info online at www.chabaduptown.org/services
This Shabbos includes a reading of Amalek, the few times we fulfill the Biblically mandated mitzvah to remember Amalek. Join us for our Shabbos festivities!
Next weekend is YJP "First Fridays" Brazilian style and "Shabbos Selichos", when we begin on Sat night the recitation of the series of Selichot prayers recited in preparation for the "Days of Awe".
---

PARSHA: Does the Torah Punish a Rape Victim?
Is it true that the Torah requires rape victims to marry their rapists, and the only punishment to the rapist is a fifty-shekel fine paid to the victim's father? more...
---
Shabbos Parshas Ki Seitzei
Friday, August 28
Services at 7:30 pm
Candle Lighting at 7:31 pm
Shabbos, August 29
Chassidus at 9:00 am
Services at 10 am
Followed by Shabbos Kiddush
Mincha at 7:30 pm
Ethics of our Fathers, Ch. 1 & 2
Maariv, Havdalla & Shabbos Ends at 8:26 pm
Living Torah
Have a good Shabbos!
Rabbi Chaim & Chanie
Follow us on Facebook, Twitter & YouTube @youngchabad!