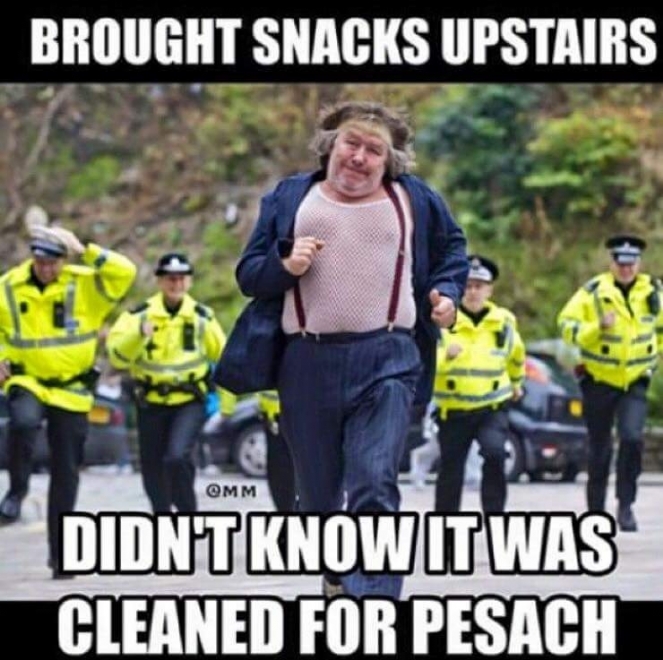 All classes this week will once again be held upstairs, as downstairs is all ready for Pesach! We will not have the regularly scheduled classes the week Pesach, April 3-11, besides for both Shabbos morning Chassidus and late night Torah study, April 9.
Shabbos Hagadol: The Shabbos before Pesach is termed Shabbat HaGadol ("The Great Shabbat") in commemoration of the "great miracle" that happened in Egypt on this day, heralding the Exodus from Egypt five days later. Shabbat HaGadol customs include reading a portion of the Haggadah (from "Avadim hayinu..." to "...al kol avonotainu"), which tells the story of the Exodus.
YJP Pesach cooking club: This Wednesday, April 1, join other young professionals to peel, cook, talk and storm the Pesach kitchen with new and old friends! Tried and proven recipes from the Uptown kitchen along with learning the ins and outs of a top notch Seder!
Chometz Removal (see Chametz Wizard, laws or Pesach A-Z):
By Thursday, April 2, 5 pm you should have sold your Chometz, now! Do not wait for the last minute! Click here to sell online. Then after 8:10 pm is the formal Search for Chometz.
On Friday, April 3 at - 5:57 am Firstborn Fast Begins. At 6:45-7:30 am We will have a Teffilin wrap & Siyum ceremony for firstborns (or parents of firstborns under 13). Before11:19 am, Finish eating Chametz and Before 12:22 pm Finish burning Chametz
Pesach Seder and Schedule:

Our first signature Uptown seder is completely full! However, we still have some space at our second seder. Please RSVP at www.chabaduptown.org/seder
For the complete Chabad of Uptown Pesach schedule and links to literally thousands of Pesach seders and schedules around the world, visit www.chabaduptown.org/pesachschedule
Condolences: The Chabad community send its sincere condolences to the Michael, Eira and family Ostrovsky on the untimely passing of their father, Yan Ostrovsky, obm. May his memory be for a blessing. Funeral services to be held 2 pm tomorrow, Friday, March 24, at 2 pm, Beth Yeshurun Cemetery - Post Oak

I'm an atheist. I married a non-Jew and have no wish to be buried in a Jewish cemetery. My question is: can I consider myself non-Jewish, or do I need some sort of form or dispensation to be officially no longer Jewish? more...
---
Shabbos Parshas Tzav, Shabbos Hagadol
Friday, March 27
Services at 7:30 pm
Candle Lighting at 7:19 pm
Shabbos, March 28
Chassidus at 9:00 am
Services at 10 am w/ special Shabbos Hagadol reading
Followed by Shabbos Kiddush
Mincha at 7:20 pm
Reading of selections of Haggadah
Maariv, Havdalla & Shabbos Ends at 8:13 pm
Living Torah
Have a good Shabbos!
Rabbi Chaim & Chanie
Follow us on Facebook, Twitter & YouTube @youngchabad!