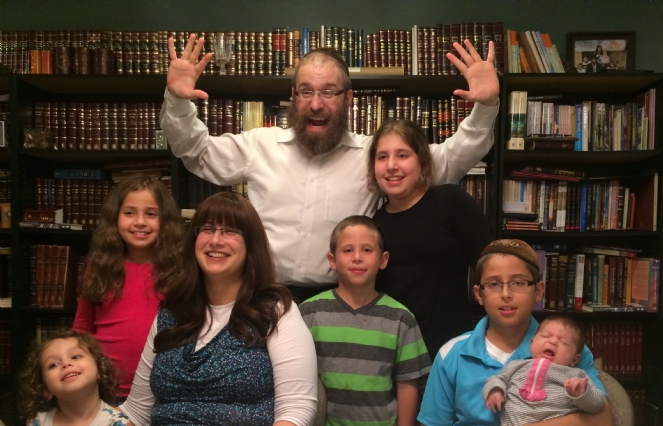 Do you love your family, wife and children? Do you serve them because you love them?
Do you love Hashem, the Torah and Mitzvos? Do you serve Him, because you love Him? If so, you are in great company. If feels good up there, as one soars in the moral highway of feeling positive, right and good as one carries on with the duties of life.
But, what happens when the romance with life and Judaism fades? Do our duties fade away too? When challenges face us, how do we weather the storms?
In our recent Tanya class we studied Tanya, Igeres Hakoshesh Chapter nine, where the Alter Rebbe paraphrases from the Kesuba, the Jewish marriage contract and stresses a beautiful nuance. In the kesuba the husband promises to be like those who "work for their wives, honor, provide for and support them in truth". The Alter Rebbe implores his beloved followers not to be like those who "provide for and esteem their wives and children out of love". Rather look closely at the kesuba that concludes "support them in truth".
For while it is laudable to love, that can't be the driving force. Our moral, ethical and Jewish compass surpasses the emotional attachment we have with our lives and Hashem. Even while we are in a loving state, we focus on the moral truth, that is, that our duty trumps it all. Truth in Hebrew is Emes, Alef-Mem-Suf, the first, middle and last letter of the Alef Beis. If one is connected to the truth, it withstands the test of time and challenge.
This week, in preparation for Purim, we read Parshas Zachor, remembering what Amalek did to us. Allegorically, Amalek symbolizes the apathy that pervades one's life, bringing down the moral obligation to fulfill one's duties. How does one overcome the lack of enthusiasm and reclaim the romance with life and Judaism? By recognizing their moral truth, in tandem or in absence of one's infatuating love with it.
Do you love what you do? Do you only do what you love? The right way is not always the most popular way. Not only socially, but, in our private lives as well. We don't serve our family out of love. We serve our family, our community and our country - because that is our duty. And then, we love it.
---
THE PURIM SCHEDULE:
WED. MARCH 4:
YJP & Community Delights & Strikes Bowling Party - RSVP
7:00 pm Megillah Reading
8:00 pm Bowling & Party
10:00 pm Slacker's Megillah
THURS. MARCH 5:
6:45 am Shacharis | 7:30 am Megillah Reading
2:30 pm Seniors Party & Megillah Reading at Brookdale Plaza Galleria
(Formerly The Hampton)- 2929 Post Oak
5:30 pm Megillah Reading & Happy Hour at Midtown Drinkery, 2416 Brazos St.
---
Next Week is March First Fridays for YJP! In the spirit of Purim we will have Persian Fish, Dolmeh Felfel (Persian Meat Stuffed Bell Peppers) and other Persian Fare! Young Professionals are encouraged to RSVP at www.chabaduptown.org/shabbatdinner!!
---
Shabbos Parshas Tetzaveh-Zachor
Friday, February 27
Services at 6:30 pm
Candle Lighting at 6:02 pm
Shabbos, February 28
Chassidus at 9 am
Services at 10 am w/ special Zachor Torah Reading
Followed by Kiddush
Mincha at 6:05 pm
Maariv, Havdalla & Shabbos Ends at 6:56 pm
Living Torah
Sunday, March 1
Shacharis at 8:30 am
followed by BLT = Bagels, Lox & Tefillin at 9 am!
Have a good Shabbos!
Rabbi Chaim & Chanie