Great High Holiday news!! The Hampton has agreed to extend the cutoff for the special Chabad hotel room rate until Sept. 5!! You must reserve directly with them. Nail down your plans and check out the hotel information and all the services, schedule, Rosh Hashana dinners / luncheons, Yom Kippur break fast and RSVP details at www.chabaduptown.org/services. We are very limited in space this year and RSVP is absolutely required for the meals. Please RSVP early, first come first served.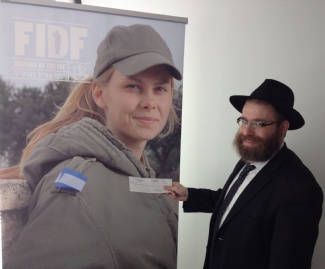 This past Friday, FIDF saluted the Young Adults & Professionals of Chabad of Uptown for their generosity when they nailed it at the White Party in support of Israel!
Next Shabbos is September "First Fridays" for Young Pros! Last month we had an overflowing crowd and we kindly request that you RSVP in advance so we can plan accordingly atwww.chabaduptown.org/shabbatdinner
#ALSChallenge - Wed. Sept 3, weekly dinner, class & social for young professionals is the Neurologist Dr. Steve Lovitt Challenge to learn about ALS. Are you accepting the challenge? :)
Introducing JHouston.org! JHouston is a community initiative to help Houston Jewish singles meet their soul mate. The local service focuses on Jewish singles
in the Houston area and expands beyond, in partnership with other established Jewish organizations, to multiple States around the USA and Canada. They all have the same goal, to help Jewish singles connect and form meaningful relationships.
JHouston is an online dating service where local Jewish matchmakers, with the help of Advanced Computer Algorithms, assist Jewish singles of all backgrounds and observance levels with finding love.

It's a human touch with a computer aid! Check it out and sign up free at www.JHouston.org!!
---
More young adults affixing mezuzot
Jewish Herald Voice, Front Page, Thu, Aug 21, 2014, By CHABAD.org and JHV Staff
Nic and Cat Trammell just installed their very first mezuzah.

The Los Angeles couple is one of hundreds across the United States who recently have affixed mezuzot to their doorposts under a nationwide initiative, spearheaded by Chabad Lubavitch centers that cater to young adults. Houston's Chabad of Uptown is taking part in the campaign.
More about how they nailed it...
Photo credit: Jillian Levinson
Houston's Rabbi Chaim Lazaroff helps Brian Levinson affix his new mezuzah.
---
Shabbos Parshas Shoftim
Friday, August 29
Services at 7:30 pm
Candle Lighting at 7:29 pm
Shabbos, August 30
Chassidus at 9 am
Services at 10 am
Followed by Shabbos Kiddush
Mincha at 7:30 pm
Maariv, Havdalla & Shabbos Ends at 8:23 pm
Living Torah
Have a good Shabbos!
Rabbi Chaim & Chanie
Follow us on Facebook, Twitter & YouTube @youngchabad!