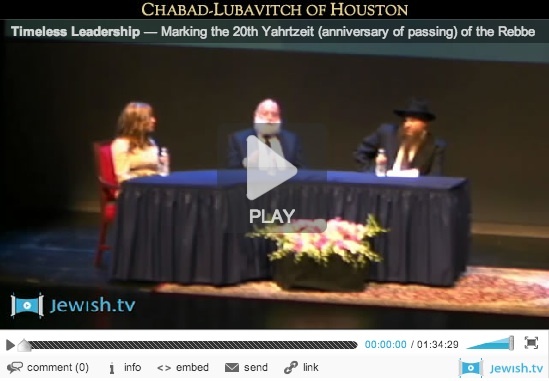 We are honored and humbled to be part of this community and be the Rebbe's emissaries to the amazing city of Houston, Texas. What an absolute inspiration to join 700 Houstonians for an unforgettable evening marking the Rebbe's Twentieth Yartzeit.
Here is a sampling from today's mailbag:
"I can honestly say last night's event is in the top 10, no, top 3 of most inspirational experiences. The panel was excellent; I'm already a Prager fan....very entertaining. Thanks for including us. Keep us on the list!"
"Inspirational, education, humorous, intriguing, thankful that I attended"

"Very much enjoyed last night's program...it was a thoughtful discussion of some serious topics and ideas, and we both were totally captivated. It was an interesting discussion, and some thoughtful and thought-provoking statements were made...we loved it. Thanks for including us in this event; it was a memorable evening."
You can watch a partial replay of the program here including Prager's opening remarks and the panel discussion. The photo gallery is here and on Facebook here.
---
Rabbi Chaim travels next week with Chaya Mushka and Mendel to NY joining many thousands of people from across the globe who will be visiting the Rebbe's grave for prayer on this auspicious day, as is customary when we commemorate the Yartzeit of a righteous person. (All weekly classes and programming will carry on as usual).

It would be an honor and pleasure to pray for you (and your family), as well, at the Rebbe's "Ohel."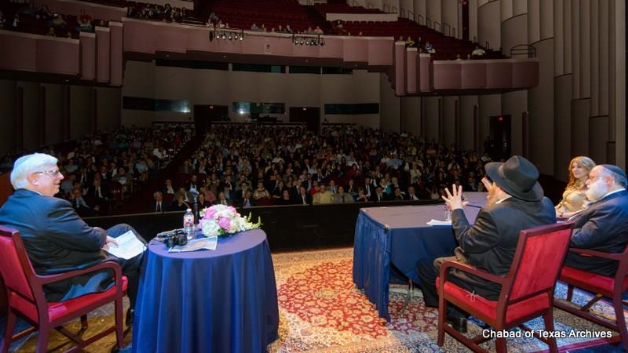 Please e-mail us your name and your mother's name (preferably the Hebrew or Yiddish names), and those of anyone else you would like us to mention, we would be glad to have them in mind as well. If there's a specific need you would like us to pray for, please mention it as well.

May all our prayers be fulfilled and may we merit to change our lives and the entire world through adding just one more mitzvah at a time.
---
Sunday is Rosh Chodesh Tammuz, please join us for our monthly minyan at 8:30 am followed by breakfast!
Tuesday, Gimmel Tammuz, Parsha class led by Chanie at noon
Wednesday, young professionals dinner & social game night! On Facebook here
Thursday, Tanya class at noon or 8 pm
Next Shabbos, July 4 First Fridays for young professionals. Franks in blanks, fried chicken, apple pie and red, white & blue desserts among other USA eats and drinks. On Facebook here.
---
PARSHAH: Meet the Red Heifer
Learn about the mysterious red heifer, which left even King Solomon, the wisest of all men, scratching his head in wonderment. more...
---

Shabbos Rosh Chodesh, Parshas Chukas
Friday, June 27
Services at 7:30 pm
Candle Lighting at 8:08 pm
Shabbos, June 28, Rosh Chodesh I
Chassidus Study at 9 am
Services at 10 am
Followed by Shabbos Kiddush & Farbrengen
Mincha at 8:10 pm
Ethics of our fathers, Chapter 4
Maariv, Havdalla & Shabbos Ends at 9:07 pm
Living Torah
Sunday, June 29, Rosh Chodesh II
Monthly Rosh Chodesh Minyan 8:30 am
BLT at 9:45
Have a good Shabbos!
Rabbi Chaim & Chanie