Joy! Tonight is Rosh Chodesh Adar 1. That means that tomorrow morning we will have our monthly Rosh chodesh minyan and breakfast at 6:45 am! Please reply if we can count on you for the minyan and Adar joy!
Adar Joy: "When Adar enters," the Talmud declares, "we increase in joy." For this is "the month that was transformed for them from sorrow to joy, from mourning to festivity" (Esther 9:22) by the great miracle and victory of Purim. Our sages advise that the month of Adar is an auspicious time for the Jewish people, so that if a Jew is faced with a challenging event (i.e., a court case, a medical procedure, etc.) he should endeavor to schedule it during Adar. Links: 4 Reasons to be Happy; more on joy.
Delight! That's the only way to describe the emotions of the seniors and young professional volunteers as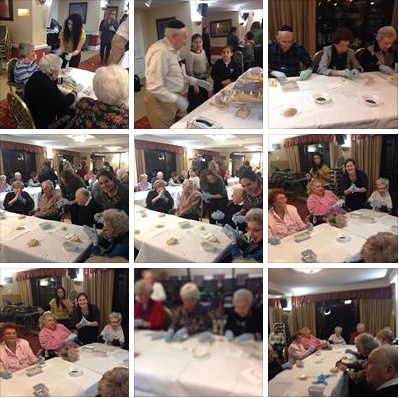 they paired up to bake Challah at the Hampton on Post Oak this past Wednesday! Please volunteer for our Loaves of Love program and get paired up with a senior!www.chabaduptown.org/lol
Celebrate! Next Shabbos, Feb. 7 is the first Friday of February, and you know that means! "First Fridays" for young professionals Shabbos dinner and social!!
JTA - The Women of Chabad: When I arrived at the Hilton in midtown Manhattan Sunday night for the International Conference of Chabad Lubavitch Shluchos — the women's version of themen's emissary conference that took place in Brooklyn in November — my media contact instructed me to turn right and follow the ladies.
It wasn't hard. Some 3,000 women — mostly from the United States, but in true Chabad fashion representing a cross-section of the movement's global corps of emissaries — were dressed to the nines, tottering in their heels and designer dresses into the hotel's dimly lit ballroom. Read more >
Chanie came back from this inspiring conference attending workshops, catching up with friends and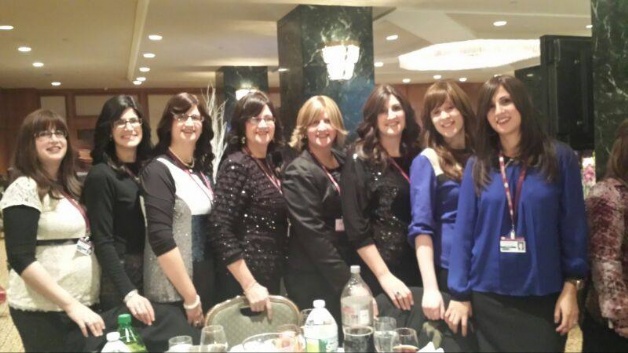 hanging out with family. From left to right, meet the clan!Chanie Galperin Lazaroff, Chanie Look alike, Chanie Look alike, Chanie's mother also a Look alike, Chanie Look alike, Chanie Look alike, Chanie sister in law, Chanie Look alike!

Women Enriched By Talks, Classes, Visits and Each Other at Annual Conference
At gala banquet, they compare experiences, share ideas and feed off the energy of thousands more...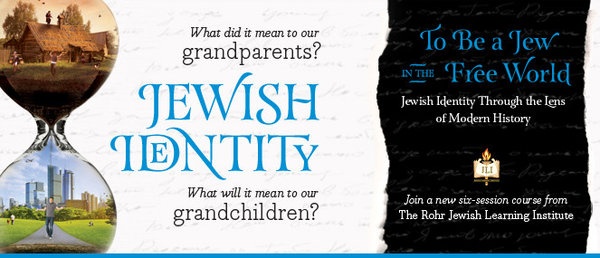 NEW JLI COURSE: A new 6 week JLI course begins this Tuesday evening, To Be a Jew in the Free World: Jewish Identity Through the Lens of Modern History.More info and to register here >
This year is a shanah meuberet (lit., "a pregnant year") or a leap year on the Jewish calendar. The Jewish leap year, which occurs 7 times in a 19-year cycle, has 13 months instead of the regular year's 12. This is so that the lunar-based Jewish year should remain aligned with the solar seasons (12 lunar months make up a total of 354 days -- slightly more than 11 days short of the 365.25 day solar cycle). The added month is called "Adar I" and is inserted before the month of Adar (termed "Adar II" in leap years). The festival of Purim celebrated on Adar 14, is in Adar II on leap years, while the 14th of the Adar I is marked only as "Purim Minor." Similarly, birthdays and most other anniversaries are marked on the 2nd Adar. Links The 19-Year Marriage
On the morning of February 1, 2003, the Columbia Space Shuttle, returning from its STS-107 mission, was destroyed upon re-entry, 16 minutes before its scheduled landing. All its crew members perished, including Ilan Ramon, a combat pilot in the Israeli Air Force, who was the first Israeli astronaut. Prior to his departing to space on Space Shuttle Columbia, where his mission included the manning of a multispectral camera for recording desert aeroso, he arranged to take Kosher food and he took along a Kiddush cup and a copy of the Torah. Links: Pride, Pain and the Suddenness of Life.

The synagogues and study halls in the Diaspora are considered "miniature sanctuaries." For this reason, we find that some of the physical characteristics of the Holy Temple are to be incorporated into the building of a synagogue . . . more...
Join our building campaign! www.chabaduptown.org/building
Shabbos Rosh Chodesh, Parshas Terumah
Friday, January 31
Services at 6:30 pm
Candle Lighting at 5:40 pm
Shabbos, February 1
Chassidus at 9 am
Services at 10 am
Followed by Shabbos Rosh Chodesh Kiddush & Farbrengen
Mincha at 5:40 pm
Maariv, Havdalla & Shabbos Ends at 6:36 pm
Living Torah
Sunday, February 2
Shacharis at 8:30 am
Tefillin and breakfast at 9 am
Tuesday, February 4
Weekly parsha class at 12 pm
New six-week JLI course at 7:30 pm
Wednesday, February 5
Young professionals dinner, class and social at 8 pm
Thursday, February 6
Tanya - Faith a belief in G-d at 12 pm (optional lunch)
Tanya - spirituality of Torah and Mitzvos at 8 pm
Friday, February 7
First Fridays - Shabbos Dinner for Young Professionals
Have a good Shabbos!
Rabbi Chaim & Chanie