HEADS UP! Three days of celebration are ahead of us beginning with tomorrow, Wednesday night. All services are simlar to Shabbos in style, 7 pm in the evenings and 10 am in the mornings. Check out the complete schedule below!
---
A magical night in the Sukkah under the stars was had with great food and company! We all heard a moving story from Chanie's father and continued the inspiration throughout the weekend.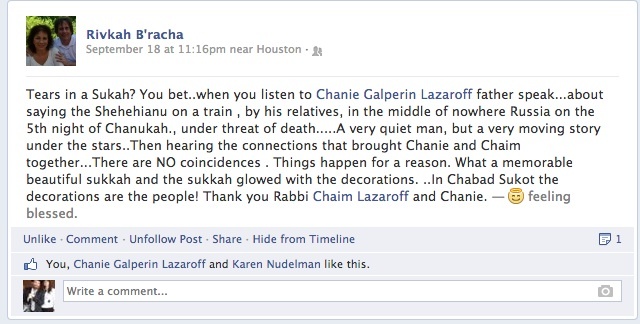 CHABAD.ORG/NEWS - Trading Spaces: Neat Nooks Just for the Holidays
Rabbis get functional when accommodating larger numbers of worshippers [...] In Uptown Houston, a tony area in Texas known for high-end retail shops and trendy boutiques, Rabbi Chaim and Chanie Lazaroff hold services in the posh Hilton Houston Post Oak Hotel, in the exclusive Galleria area. more...
---
We look forward to a celebratory Simchas Torah weekend! www.chabaduptown.org/joy
Sponsorship of the kiddushim in part by Ben & Regina Shamooelian. You can sponsor too :)www.chabaduptown.org/donate
For all of you that joined us last year, you know the drill. Get ready to celebrate Chabad-style! Come join us for an unbelievable, all night, happy, thrilling, stress-relieving, dance-til-you-drop, beyond belief and total excitement, feast-on-amazing-foods, l'chaims and fun for all Simchat Torah Party!
MAIN HAKAFOT THURSDAY, SEPT. 25 (- see entire schedule below)
7:00 PM Services
8:00 PM Buffet Dinner and Warm-Up L'chaim's and The Dancing Begins till...

On Simchat Torah we will celebrate starting over the Torah with a massively awesome party and dance-a-thon. It doesn't matter if you're not religious, it doesn't matter if you're only Jew-"ish". At Chabad everyone's welcome because the only thing that matters is your willingness to celebrate!
Join event on Facebook https://www.facebook.com/events/465795776849414/

Shmeni Atzeret / Simchat Torah / Shabbos Bereishis Schedule
Wed., Sept. 25 - Shemini Atzeret
Make Eruv Tavshilin
- 6:56 pm Light Holiday Candles
- 7:00 pm Mincha & Evening Services
Hakafot-celebratory dancing
This one is only the warm up - to connect with Israel! (See main hakafot below).
Thurs., Sept. 26 -
Shemini Atzeret & Simchat Torah
- 10:00 am Morning Services
- 12:15 pm Yizkor
- Teffilas Geshem
- Say Goodbye to Sukkah
- 7:00 pm Mincha & Evening Services Grand Hakafot-celebratory dancing - This one is the real deal!
- After 7:51 pm Light Candles
Facebook Event >

Fri., Sept. 27 -Simchat Torah
- 10:00 am Morning Services
Hakafot-celebratory dancing
Mincha after Hakafot
- 7:30 pm Shabbat Evening Services
Sat., Sept. 28 -Shabbat Bereishit
- 10:00 am Morning Services
- 7:00 pm Mincha
- 7:48 pm Maariv, Havdalla and Shabbat Ends
- Living Torah Video
Good Yom Tov!
Rabbi Chaim & Chanie