Big week for the Jewish people!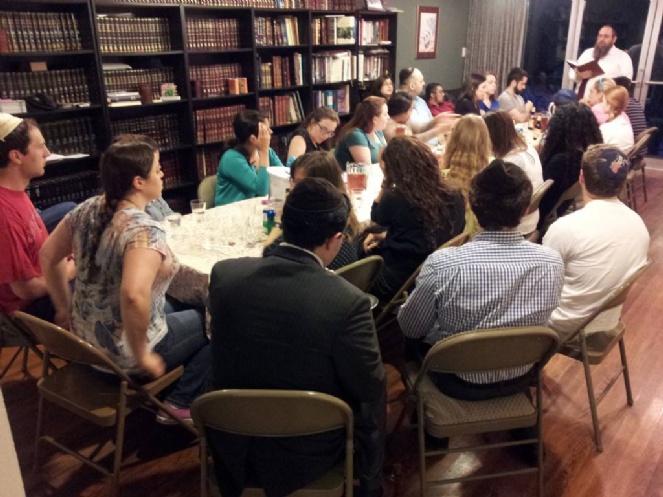 A packed house of young professionals heard fascinating facts stemming from Jewish law on the delicate issue of abortion from Rabbi Lazer Lazaroff of Chabad House at Texas Medical Center. The Torah does not agree with the political pro-life or pro-choice parties. An embryo is a real life, not to be taken lightly. It is a great honor to parent a child and bring a soul into this world.
This week, a much acticipated soul was brought into this world and new prince has been born! As all of Israel are children of royals (Talmud Shabbos 67A) the Chabad of Uptown community extends a hearty, Texas sized, Mazel tov to... Maxine Epstein on the birth of a grandson to her son Rabbi Adam & Clara Chaya!
The Grand Finale of the month of Shabbatons & Events in honor of our Gabbai is here with our final Shabbos with Dr. Alan & Chagit Croock!
July 26-27 Weekend Shabbaton & Shabbos Dinner sponsored by our Gabbi Dr. Alan & Chagit Croock in special honor of Rav Chaim, Chanie & Family, Chabad Uptown Congregation & Chabad Uptown Choir :)
Shabbos Kiddush Lunch Sponsored by Michael Pasternak & Ben Shamooelian in honor of our Gabbai
Thank you to all of our sponsors! See www.chabaduptown.org/gabbai for your last chance to join in sponsorship opportunities.
---
August "First Fridays" for young professionals is next week, August 2! Join a wonderful group of new and old friends (and bring some too)!
In the upcoming weeks, we are firming up the final details on our ongoing Building Campaign! The steady growth of our programs has us literally bursting at the seams. Please contact us if you would like to learn more about the planned expansion.
The High Holidays are quickly approaching! Services for Rosh Hashana & Yom Kippur wil be held at the exquisite Hilton Post Oak - Galleria! We will have a special program called "CKids", making Shul on the Jewish New Year a fun and fulfilling experiene for everyone! Complete schedule and registration form is now posted on www.chabaduptown.org/services
Shabbos Parshas Eikev
Friday, July 26
Services at 7:30 pm
Candle Lighting at 7:59 pm
Shabbos, July 27
PrePrayer Kabbala Study at 9 am
Services at 10 am
Followed by Kiddush
Mincha at 8:00 pm
Pirkei Avos Ch. 5
Maariv, Havdalla & Shabbos Ends at 8:59 pm
Living Torah
Sunday, July 21
Shacharis at 8:30 am
BLT = Bagels, Lox & Teffilin at 9:00 am
Have a good Shabbos!
Rabbi Chaim & Chanie
Follow us on Facebook, Twitter & YouTube @youngchabad!