Lag B'Omer is a celebration not be missed! Please join us on Sat. night, 9:30 pm for our Chabad of Uptown Jamming night and BBQ! More & RSVP >
BMX Stunt Show community event at Godwin park, on Sunday 1 pm! More >
SAVE THE DATES!
Young Pros Holy Happy (Half) Hour & Monthly "First Fridays" Shabbos dinner - More >
Shavuos! May 14-16 - Schedule here!
Goodbye Gabbai Event! Sunday, June 23 - A special lunch reception, followed by a month of July Shabbats, honoring our beloved Gabbai Dr. Alan & Chagit Croock, in their final month in Houston, as they prepare to make aliyah to Israel! Details TBA.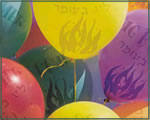 The birthday of Jewish mysticism . . . The spiritual significance of the bow and arrow . . . Can love be true, and can truth be loving? . . . What is Kabbalah? more...

Parshah: Faith as a Journey
What was truly remarkable about the wilderness years was not that the Israelites were surrounded by the clouds of glory, but that they were an entire nation without a home or houses; they were like nomads without a place of refuge.more...

Shabbos Parshas Emor
Friday, April 26
Services at 7:30 pm
Candle Lighting at 7:36 pm
Shabbos, April 27
Chassidus Torah Study at 9 am
Services at 10 am
Followed by kiddush with best cholent this side of Mississippi
Mincha at 7:35 pm
Ethics of our Fathers, Chapter 4
Maariv, Havdalla & Shabbos Ends at 8:34 pm
Living Torah
Lag B'omer Jamming Night & BBQ at 9:30 pm RSVP
Sunday, April 28
Shacharis at 8:30 am
BLT = Bagels, Lox & Tefillin is Back! at 9 am
BLX Stunt Show at Lag Bomer Godwin Park at 1 pm More >
Have a good Shabbos!
Rabbi Chaim & Chanie