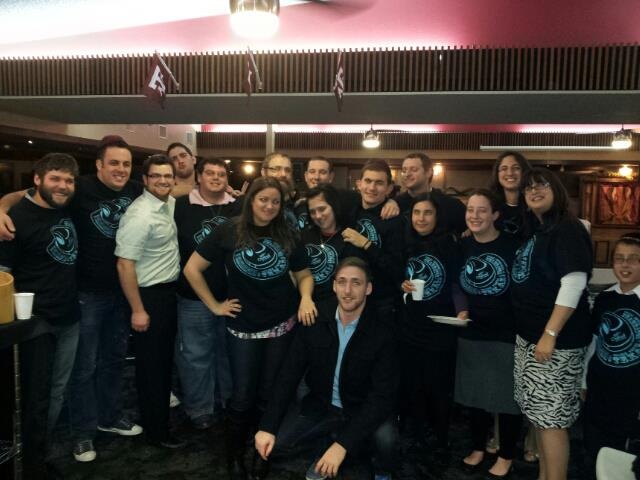 An inspiring Texas Shabbaton was had at Texas A&M with fifteen student representatives from the Houston area. The program included high powered guest speakers Deputy Consul General of Israel, Hon. Maya Kadosh, Boston University Prof. Binyomin Abrams and Israel advocate and commentator Neal Lazarus.
Many thanks to those who volunteered to help us pack the mishloach manos for Purim! We will be distributing them at The Hampton on Sunday afternoon. If you would like to volunteer at the party and brighten up the Purim day of a senior, please let us know!
We welcome Chanie's brother, Mendel Galperin and his yeshivah partner Mendel Greenberg who came to help us out in our Purim festivities!!
Purim is flying high!!! See the jammed packed schedule below! Notice TWO WELL ATTENDED main events:
Mazel tov to:
Nick & Sandra Morgan on the birth of a newborn son!
Chanie's sister, Yossi & Mushkie (Galperin) Bendet on the birth of a newborn son! Mushkie was here many times to help for the holidays at Chabad of Uptown.
May we only share simchos!
Joseph Yadin on his putting on Tefillin for the first time in preparation for his bar mitzvah!
Ben & Regina will sponsor the Shabbos kiddush this week in honor of their newborn son!
This Wednesday night, Feb. 27, the Cha-Bad to the bone team of Chabad of Uptown will test and taste the tastiest chili this side of the Mississippi! Come hang out with friends, learn a kosher thing or two and vote the chili up our down as we prepare for the Sunday, March 3 Houston Kosher Chili Cookoff showdown!!!Join the testing event on Facebook. (Click here for Day of cook-off March 3rd Team Facebook event)
Next Shabbos is our monthly First Fridays for Young Professionals on March 1! Join event on Facebook here!
---

How-to guides to take you through the holiday of Purim and its exciting customs and traditions. more...
---
Shabbos Zachor Parshas Tetzaveh
Friday, February 22
Services at 6:30 pm
Candle Lighting at 5:56 pm
Shabbos, February 23
Preprayer kabbala Chassidus Study at 9 am
Services at 10 am
Followed by Kiddush & Farbrengen
Sponsored by Ben & Regina Shamooelian in honor of their newborn son
Mincha at 6:00 pm
Maariv & Shabbos Ends at 6:53 pm
Community Megillah Reading & Havdalla at 7:15 pm
Young Professionals Heroes & Villains Party @ Hilton Houston Post Oak at 9:00 pm -www.chabaduptown.org/heroes
Sunday, February 24
Shacharis at 8 am
Megillah Reading at approximately 8:45 am
Megillah Reading at State Prisons 10 am
The Hampton Senior Living Megillah reading and Party at 2:30 pm
Community Purim Feast & Megillah Reading at 5:30 pm - www.chabaduptown.org/feast
Have a good Shabbos!
Rabbi Chaim & Chanie