Packed house at the beautiful JW Marriott only surpassed by the beauty of the Jewish people joining in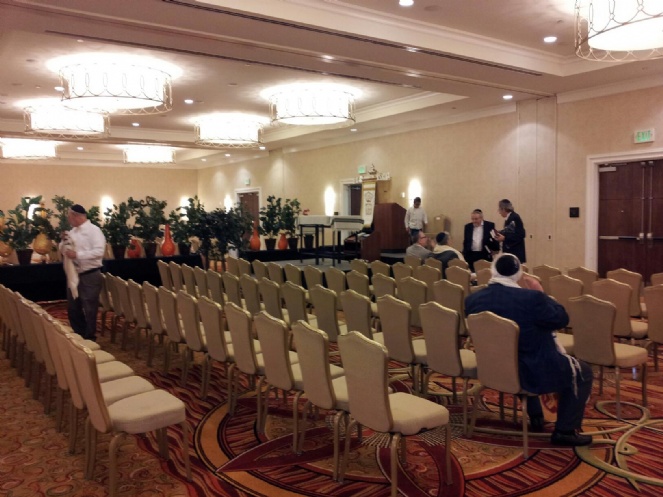 song and prayer! Thank you for making it so special and for being so welcoming to those who may have joined us for the first time.
Thank you to all those that assisted to make everything run so smoothly! Chazan Daniel Gavin did a wonderful job leading the prayers. Mendel Galperin, beautifully read from the Torah. Sarah Galperin ran the amazing youth services (reports are the kids were simply crying not to go home). The soft lobby couches also deserved to be thanked for providing a wonderful place to hang for the Yom Kippur afternoon break. Oh, and Chanie did a fantastic job on the Break The Fast spread. Most importantly, thank you to all those that assisted moving in and out of the hotel, especially late at night after an arduous fast.
Sampling from the mailbag:
"I wanted to thank you for this fantastic Yom Kippur experience that we've been through the past two days. It was the first time I spend the high holidays away from my home, my family and I felt extremely comfortable joining you and the community in the service. F.L"
"Thank you so much!! I had a great time and I learned a lot as well!! You, your family, and community were all so welcoming, I already know I want to come back for more!! :) A.D"
"I remember when we first came, there were maybe 4 rows of a few chairs on each side...and Chanie would go get more chairs as more people kept coming! And now look! Wow! Fantastic how many people you are reaching. B.K."
"It's the warmth, welcome, and spiritual inspiration you and Chanie bring to Uptown Chabad that moves us (your young professionals clan). So, thank you for all the hard work you and Chanie put into the programs, and shana tova! K.N."
Sukkos in here! Chanie's family will be joining us for these eight days of joy! The full Sukkos and Simchas Torah schedule, click here.
The Sukkah will be open and available all week for public use. Come bring and take your lunch break in our Sukkah!
Highlights:
Shabbos Parshas Haazinu
Friday, Sept 28
Services at 7:00 pm
Candle Lighting at 6:52 pm
Shabbos, Sept 29
PrePrayer Kabbala Study at 9 am
Services at 10 am
Followed by Shabbos Kiddush
Mincha at 6:55 pm
Maariv, Havdalla & Shabbos Ends at 7:46 pm
Living Torah
Sukkos First Days Schedule
Sun., Sept. 30
- 8:30 am Shacharis
- 9:00 am BLT = Bagels, Lox & Tefillin
- 6:50 pm Light Holiday Candles
- 7:00 pm Mincha & Evening Services
- 8:00 pm Sukkot Holiday Community Dinner - Under the Stars! - RSVP




Mon., Oct. 1
- 10:00 am Morning Services
- Lulav & Etrog Available for public use
- 6:50 pm Mincha & Evening Services (Maariv)
- After 7:42 pm Light Holiday Candles

Tues., Oct. 2
- 10:00 am Morning Services
- Lulav & Etrog available for public use
- 6:50 pm Evening Services
- 7:41 pm Havdalla & Holiday Ends
Have a good Shabbos!
Rabbi Chaim & Chanie
Follow us on Facebook, Twitter & YouTube @youngchabad!