HIGH HOLIDAYS:
Sunday we filmed a great production promoting Rosh Hashana & Yom Kippur! Check it out! Chabad of Uptown will once again offer beautiful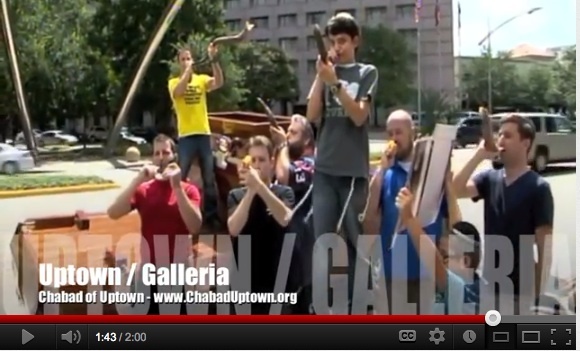 hotels where Synagogue Holiday Services are always free. We will also offer fully catered dinners, luncheons or reserved seats. Regardless for pay or not, you may RSVP NOW atwww.chabaduptown.org/services
YOUNG PROS:
A beautiful BBQ was had with over 70 young professionals for the summer closeout BBQ. See pictures here! Thank you to Linda Suib for sponsoring a portion of the new BBQ grill and Houston Cabinetry for being an event sponsor! Rosh Hashana marks 5773 years since the creation of the world. This Wednesday night class for young professionals will be on Creation & Evolution. Join class on Facebook here. Next Friday night, Friday Sept. 7 will be the Holy Happy Hour "First Fridays" for Young Professionals! On Facebook here.
FOR WOMEN ONLY!
Mon Sept 10 at 8 pm - Enjoy delicious desserts as we discuss the connection of Jewish women to the High Holidays in a relaxed atmosphere lead by Chanie! Sponsored by Guitel Melnick in memory of her father Enrique Tzvi ben Mordechai and Becky Kasoff in memory of her brother Benjamin ben Basha Feigel Silverman. On Facebook here.
MESSAGE FROM CHAYA MUSHKA, MENDEL, RIVKY & LEVI (BLUMA TOO):
Our school, Torah Day School of Houston, is having their second PTO Chinese Auction to raise money for a much needed new playground. Help us get the playground! Win great prizes and do a mitzvah at the same time. No matter where you live, join us from around the world to make this a reality!www.tdshouston.org/auction Watch this video starring Levi (with guest extras of Rivky & Chaya Mushka)!!

Why does G‑d tell you how to get divorced, if He believes in marriage?
Shabbos, Parshas Ki Seitzei
Friday, August 31
Services at 7:30 pm
Candle Lighting at 7:27 pm
Shabbos, Sept. 1
Preprayer Kabbala Study at 9 am
Services at 10 am
Followed by Kiddush with the best kishke this side of....
Mincha at 7:30 pm
Maariv, Havdalla & Shabbos Ends at 8:20 pm
Living Torah
Sunday, Sept 2
Shacharis at 8:30 am
BLT = Bagels, Lox & Tefillin at 9 am
Have a good Shabbos!
Rabbi Chaim & Chanie
Follow us on Facebook, Twitter & YouTube @youngchabad!