Brain fog. I guess that is the best way to describe the past 20 minutes as I struggle with how to put in writing the description of our spiritual, familial and entertaining trip as a family to NY.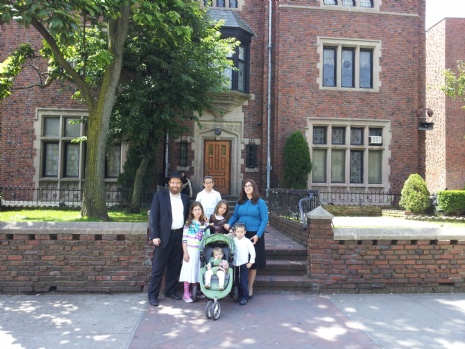 If I can put it in a nutshell, perhaps the best description I can give you is, appreciation for what we've got and to never take it for granted. Interestingly, that was also the theme of today's Tanya class.
Having a profound appreciation of being the Rebbe's chossid and Shluchim to Houston. Having a profound appreciation for a wonderful family and having the wisdom to recognize it. But, not just to appreciate it, but to do something about it with the small and large inputs that ensure that we never to take it for granted.
We would like to thank all those who helped us in the logistics and operation of Chabad of Uptown during our leave, including Michael Pasternak, Rabbi & Mrs. Goldstein for leading Shabbos along with Avremi Fishman and Abrasha Grinshtein, Matt Trusch for the classes and everyone else who lent a hand.
This week, we also saw Mendel off for a month long, first time experience at overnight camp in upstate Michigan - of course he is elated. The kids started Camp Gan Israel day camp as well and had an amazing first day.
July 6, "First Fridays" for Young Adults & Professionals is sponsored by Ady and her mom as aSeudat Hoda'ah, a thanksgiving feast, for her recovery. All are welcome to join. On facebook here. Please feel free to invite your friends, Ages 21-39. RSVP at http://www.chabaduptown.org/shabbatdinner
Meanwhile, please join us this week for another fantastic uptown Shabbos!
Shabbos Parshas Chukas
Friday, June 29
Services at 7:30 pm
Candle lighting at 8:08 pm | RSVP for dinner
Shabbos, June 30
Chassidus at 9 am
Shacharis at 10 am
Followed by lunch kiddush, cholent and more
Mincha at 8:10 pm
Ethics of our Fathers Chapter 5
Maariv, Havdalla and Shabbos Ends at 9:08 pm
Living Torah Video
Have a good Shabbos!
Rabbi Chaim, Chanie & Clan
P.S. Follow us on Facebook, Twitter & YouTube @youngchabad!
============
This week's email sponsored by Comprehensive Sleep Medicine & Associates
Setting the Platinum Standard in Sleep Disorders Medicine.™
Dr. Jerald H. Simmons - www.houstonsleep.net