Shavuot was uplifting, entertaining and a wonderful time for all at Chabad of Uptown.
First off, the Women's Night Out - Cheesecake Bake, was a great evening. Chanie presented the meaning of Shavuot and it's connection to Jewish women. All kinds of flavors, shapes and toppings were topped off with a presentation by Sandra Morgan. Click here for some pictures!
Our dedicated minyaners ensured a minyan throughout the three day holiday weekend, with a grand showing of uptownians for the Ten Commandments Torah reading with a huge dairy spread of lasagna, blintzes, ice cream and more.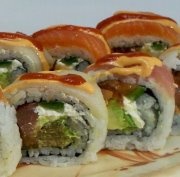 This Shabbos - "First Fridays" is here! Young Adults & Professionals are invited for a special Sushi Shabbat dinner, of course featuring the world famous "Rabbi Chaim Sushi Roll"! See who is coming by clicking here! RSVP at http://www.chabaduptown.org/shabbatdinner
We wish a hearty Mazel Tov to Sarit & Eidan Ohana on the birth of twin boys!!
Shabbos Parshas Naso
Friday June 1
Services at 8:00 pm
Followed by Sushi Shabbat Dinner for Young Professionals | Candle Lighting at 7:59 pm
Shabbos, June 2
Chassidus at 9 am
Services at 10 am
Followed by kiddush with best Cholent & Kishke (thanks C&D. K. for the inspiration :)) this side of the mississippi!
Mincha at 8 pm
Ethics of our Fathers Chapter 1
Maariv, Havdalla & Shabbos Ends at 8:59 pm
Living Torah is Back!
Good Shabbos!
Rabbi Chaim & Chanie