Happy birthdays to Ira Chenkin and Bob Epstein! May you have a year of happiness, health and success!
The new marriage course from JLI begins this Tuesday, May 1!
NEW COURSE: THE ART OF MARRIAGE - Register Here!

UPCOMING:
May 4: Young Professionals "First Fridays" Shabbat Dinner & Drinks with an IDF Staff Sergeant to speak on "The IDF, The Holy Land and Me" - See who is coming on Facebook!
Shmuel L., a Texan born native, served in the IDF as a commando in the Israeli Special Forces. He is currently in the reserves. Following his active duty, he completed his Rabbinical Studies and is currently preparing for a bike ride across America in support of Friendship Circle. He will share what it means to him to have enlisted to be part of the IDFs finest, his experience and the path that brought him there.
May 9: Lag B'omer Jamming Night & BBQ: Wednesday, 8:30 pm @ Chabad of Uptown - Facebook
May 10: Lag B'omer Unity Celebration & Carnival: Thursday, 4-7 pm @ Merfish Center
May 18-20: NYJP - Shabbaton New York! Mingle & Network in Big Apple! www.nationalyjp.com
May 27: Ten Commandments, Ice Cream & Dairy Kiddush: Sunday @ Chabad of Uptown, 11 am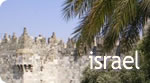 For a Jew, the Land of Israel is more than a place. It is a body for the soul of a people. Discover—and uncover—where Israel is in the heart of a Jew, and where the Jewishness is within the heart of Israel.

THIS WEEK
Shabbos Parshas Tazria-Metzora
Friday, April 27
Mincha & Kabbolas Shabbos at 7:30
Candle Lighting at 7:38 pm | Omer Count | RSVP for dinner
Shabbos, April 28
Tehillim at 9:00 pm
Shacharis at 10 am
Followed by Kiddush with best cholent this side of...
Mincha at 7:40 pm
Maariv, Omer Count, Havdalla & Shabbos Ends at 8:36 pm
Have a good Shabbos!
Rabbi Chaim & Chanie