Wow, Pesach is coming our way in full speed! The Chabad House is getting cleaned up and we are almost spic and span.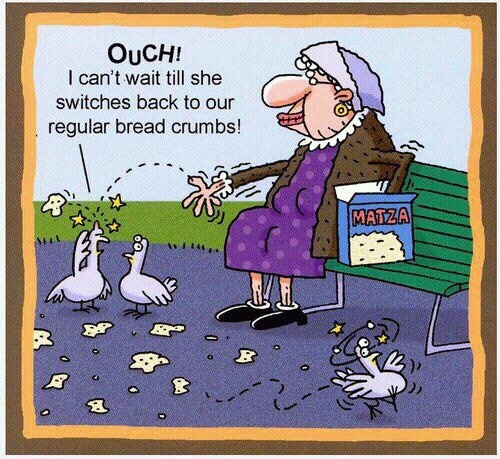 This past Sunday, 9000 people (no, that is not a typo -nine thousand) gathered at Miller Outdoor Theatre for the Aishel House benefit concert with Matiysahu Live. I believe that this may have been the largest Jewish sponsored event Houston as ever seen!
This Shabbos is called Shabbos Hagadol (the Great Shabbos), the Shabbos before Pesach, in commemoration of the "great miracle" that happened in Egypt on this day, heralding the Exodus from Egypt five days later. Shabbat HaGadol customs include reading a portion of the Haggadah (from "Avadim hayinu..." to "...al kol avonotainu"), which tells the story of the Exodus, in between Mincha & Maariv on Shabbos afternoon. It is also customary that the rabbi of the community delivers a lecture in which he elaborates on the laws of Passover and their significance, in preparation for the festival. We will have a special class on Passover laws following Mincha on Shabbos afternoon.
This Monday night & Tuesday is the Lubavitcher Rebbe's 110th Birthday. Any marker of ten is significant and surely this one. Rabbi Chaim will be visiting the ohel and will be happy to deliver any notes or prayers that you would like included by replying to this email or dropping it off before Shabbos.
You can still join us for a seder! Visit www.chabaduptown.org/seder for the complete Pesach service schedule and links to rsvp for the seder.
Please join us for another signature Uptown Shabbos!
Shabbos Hagadol Parshas Tzav
Friday, March 30
Mincha, Maariv & Kabbolas Shabbos at 7:30 pm
Candle lighting at 7:21 pm | RSVP for dinner
Shabbos, March 31
Chassidus at 9 am
Shacharis at 10 am
Shabbos Hagadol followed by Kiddush & Farbrengen
Mincha at 7:20 pm
Reading of portion Hagadah and Laws of Pesach (see above)
Maariv, Havdalla & Shabbos Ends at 8:16 pm
Kiddush Levana / Sanctification of the Moon (weather permitting)
Living Torah?

Sunday, April 1
BLT = Bagels, Lox & Tefillin at 9:30 am
Public Model Matzah Bakery at Chabad Outreach at 3 pm (11000 Fondren)
Monday, April 2
Marking the Rebbe's 110 bithday on 11 Nisan there will be a screening of portion of Rebbe's Farbrengen followed by Chassidisc Farbrengen for men at 8:30 pm at Chabad Lubavitch Center (10900 Fondren)
Wednesday, April 4
YOUNG PROS: Soul of the Four Questions & Four Cups of Wine at 8:30 pm
- WITH AN ARRAY OF PESACH WINES TASTING
Thursday, April 5
Lunch Hour Tanya class at 12 pm (no evening class)
- Sell Your Chometz, now! Do not wait for the last minute! Click here to sell online.
- After 8:13 pm Formal Search for Chometz
Friday, April 6 (see laws or Pesach A-Z)
- 5:52 am Firstborn Fast Begins
- 6:45-7:30 am Teffilin wrap & Siyum ceremony for firstborns (or parents of firstborns under 13)
- Before 11:16 am Finish eating Chametz
- Before 12:19 pm Finish burning Chametz

Passover I & II Services & Candle Lighting
(see The Seder, laws or Pesach A-Z)

Friday, April 6, 2012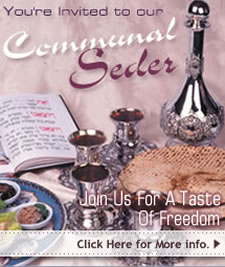 - Before 7:25 pm Light Shabbos & Yom Tov Candles (Blessings 3 & 4)
- 7:30 pm Mincha & Maariv Services
- 8:30 pm First Communal Seder - RSVP

Shabbos, April 7
- 10:00 am Morning Services (Shacharit)
- 7:25 pm Mincha & Maariv Services (Begin to Count Omer)
- After 8:21 pm Light Yom Tov Candles (Blessings 2 & 4)
- 8:30 pm Second Communal Seder - RSVP

Sunday, April 8
- 10:00 am Morning Services (Shacharit)
- 7:25 pm Mincha & Maariv Services
- 8:22 pm Yom Tov Ends
See ya on Shabbos!
Rabbi Chaim & Chanie