Please have the UptownMobile in your thoughts and prayers. It's passing occurred at the notable corner of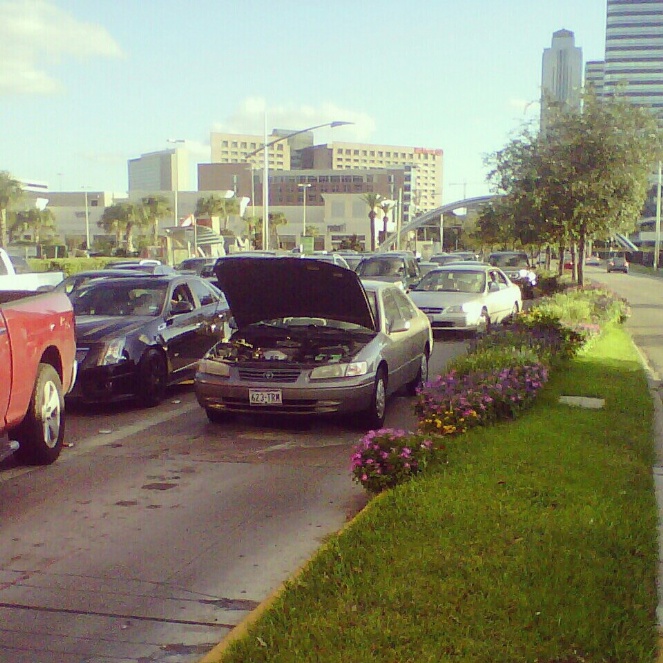 Post Oak and San Felipe, briskly carted away by law enforcement for being a traffic hazard. "Dear Camry, For over ten years, you have honorably delivered mitzvahs, children for Torah study and many miles of Torah office hopping. You will forever be in our thoughts and prayers and let us say, Amen." That's the kaddish. A kiddush will be held when the replacement takes its place. And let us say, Lchaim!
OK, at Chabad of Uptown we will keep you busy! Here is your Chabad schedule for next week:
Monday: Find Chabad's programs fascinating, but, would like some private time to learn Torah with the Rabbi or Rebbetzin? You pick the subject, time and location and we will make it happen!
NEW JLI Course begins for six weeks, this Tuesday, Oct. 30! Given by Rabbi Moishe Traxler, The Kabbalah of You: A Guide to Unlocking Your Hidden Potential. Are you all you can be? How can you unleash the infinite power of your soul within? This course provides a mystical roadmap to living a life of happiness, fulfillment, and self-actualization by revealing how you can thrive and be more than just alive.
Many thanks to Guitel Melnik for sponsoring this past week's Young Professionals class commemorating the yartzeit that same day for her father, Enrique Tzvi ben Mordechai. Next week's class and dinner for young professionals will once again be on Election 2012, this week on the Healthcare Debate: The Mandate and Jewish Law. From a Torah perspective, who has the responsibility for caring for our health?
Thursday Tanya classes will uplift your soul! Join us for fascinating discussions at noon or 8 pm, every Thursday!
Next Shabbos, Nov. 2, is also Holy Happy Hour and "First Fridays" for young professionals! - Facebook
Shabbos Parshas Lech Lecha
Friday, October 26
Services at 6:30 pm
Candle Lighting at 6:21 pm
Shabbos, October 27
Preprayer Kabbala Study 9:00 am
Services at 10 am
Kiddush sponsored by Josh & Zehava Levy in honor of the birth of their grandson, Ari Jacob Mele.
Mincha at 6:20 pm
Class on laws of Shabbos
Maariv, Havdalla & Shabbos Ends at 7:16 pm
Living Torah
Sunday, October 28
Shacharis at 8:30 am
BLT = Bagels, Lox & Tefillin at 9 am
Have a good Shabbos!
Rabbi Chaim & Chanie
Follow us on Facebook, Twitter & YouTube @youngchabad!