Dear Friends,
The time is here, the time is now! Last and final call to reserve for our first ever fundraiser for Chabad of Uptown this Sunday! We are truly inspired by your support and generosity. If you haven't yet, now is the time to register for the Appreciation Dinner with Alan Veingrad at the Marriott Westchase! (We do have student sponsors for those that can not afford it. Please let us know if you or someone would like to take advantage of this offer). www.chabaduptown.org/dinner
But, the biggest shout-out goes to our volunteers in the committee who have put in countless hours to bring this event together. The decor etc will be exemplary - you will not want to miss this event!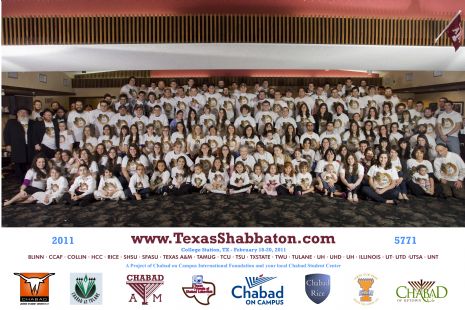 Last weeks Texas Shabbaton was an amazing success where hundreds of students descended on College Station for an amazing Shabbos experience. It only gets better with every year!
Six days work shall be done; and the seventh day shall be holy... (35:2) The Torah describes the Jew's work in the course of the week as a passive endeavor -- "Six days work shall be done" (not "six days you shall do work"). For the Jew regards his workday endeavors not as the source of his sustenance, but merely as a "vessel" in which to receive G-d's blessing. (The Chassidic Masters) more
Please join us this Shabbos Parshas Vayahkhel for another fantastic Uptown Shabbos!
Friday, February 25
Services at 6:30 pm
Light Candles at 6 pm | RSVP for dinner
Shabbos, February 26
Preprayer Kabbala Study at 9 am
Services at 10 am
Followed by lunch kiddush with best cholent - in honor of our volunteers!
Mincha at 6 pm
Maariv Havdalla and Shabbos Ends at 6:57
Living Torah
See you on Shabbos (and Sunday :))!
Rabbi Chaim & Chanie