This has been a year of exciting developments, simchas and otherwise for Chabad of Uptown and our community. Check out the photo galleries for a review in pictures and enjoy the recap of some of the highlights from www.chabaduptown.org/blog....
">The following Chanukah (CHeineken) story and picture generated hundred of shares, likes and comments on Facebook and Twitter.... I share it now with you....
">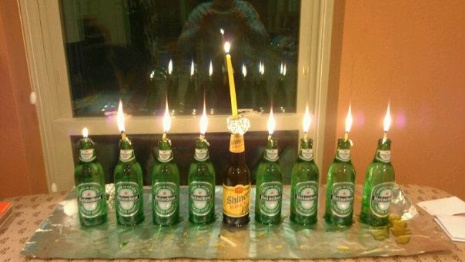 So I walk into Whole Foods and I ask for Hanukkah Candles. He takes me to the beer aisle and shows me the Heinkens. Oy! He asks, "is this for a holiday party?" I tell him yeah. First night: We drink one heineken. Second night? two heinekens.... Until the eighth night, when we do eight Heinekens! His eyes are growing and he asks, "Wow, how do I become Jewish?!" Happy CHeineken everybody! And thank you David R. for making it a reality!! :) (Oh, and the whole story didn't really happen, it is just part of my Whole Foods comedy routine)...
">Chabad of Houston had an amazing lineup of Chanukah events welcoming thousands to celebrate Chanukah. Check out www.chabadhouston.com/bulletin for some of the media stories it generated.
">Next Shabbos is our First Friday Shabbat for January for Young Adults & Professionals. "FIRST FRIDAYS" IS HERE! Every Shabbat is a celebration at Chabad of Uptown, but, the First Friday of each month is specifically for young professionals! Join Young Professionals for Cocktails and Shabbat Dinner! Please feel free to invite your friends, Ages 21-39. Friday Night Services: 6:30PM. Cocktails and Shabbat Meal: 7:30PM. Shabbat Dinner and Open Bar. $10 Before Wednesday at 6:00PM - $18 After RSVP at www.chabaduptown.org/shabbatdinner. Upcoming First Fridays dinner dates: Jan. 6, Feb 3, March 2, April 6 - Pesach Seder. On Facebook here.
">The Torah celebration journal deadline of Tuesday, January 6 is quickly approaching. Please get in your dedication (and event reservations) now at www.chabaduptown.org/torah
">The kids are enjoying their vacation and we hope you are too!
">Please join us for Shabbat as we usher in the new calendar year!
">Shabbat Hey Teves, Parshas Vayigash
Friday, December 30
Services at 6:30 pm
Candle Lighting at 5:13 pm | RSVP for www.chabaduptown.org/shabbatdinner
">Shabbos, December 31
Preprayer Kabbala Study 9 am
Shacharis at 10 am
Followed by kiddush and farbrengen marking Chassidic Holiday of Hey Teves
Mincha at 5:15 pm
Maariv, Havdalla and Shabbos Ends at 6:12 pm
">Have a good Shabbos!
">Rabbi Chaim & Chanie