See Spock here: http://www.youtube.com/watch?v=ySU8vqCVX9Y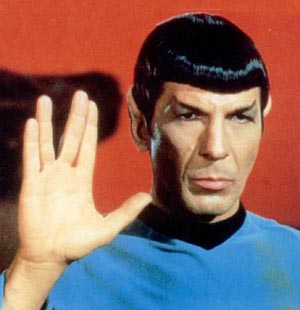 This is linked from the Chabad Telethon in California which is really another planet :) But the message is the same; please support the work we do!
Many of you have responded to our end of the year campaign - to this we say thank you! We have another 24 hours until the end of the calendar year. We would love even more people to donate to help us accomplish our $20,000 goal. Visit www.chabaduptown.org/donate to donate with our secure form. We are counting on you! Thank You!
Mystical Teaching Alert!
It is not just Spock or even the other "stars" that support the work Chabad does. All of the cosmos from the beginning of time have been waiting for us to fulfill our mission here in Uptown Houston. Help the universe reach its destiny. No Joke
King David said "The footsteps of man are directed by G-d." The first Chabad Rebbe taught that this means "When a Jew comes to a particular place it is for an inner Divine intent and purpose - to perform a mitzvah, whether a mitzvah between man and G-d or a mitzvah between man and his fellow-man. A Jew is G-d's messenger.
One more teaching: When you come to where you are there is something specific you need to purify and improve in THIS place. For centuries, or even since the world's creation, that which needs purification or improvement waits for you to come and purify or improve it. Your soul has been waiting - ever since it came into being- for its time to descend, so that it can discharge the tasks of purification and improvement assigned to it.
Ok that blows my mind...but here we are in Uptown for a reason.
Please help us in this divine task!
Live long and prosper! Or better yet the real blessing of the Kohanim
'May G-d shine His countenance upon you and be gracious to you.
'May G-d turn His countenance toward you and grant you peace.'" (Numbers 6:24-26)
As we mentioned last week, RC & Mendel went for a special trip to NYC for his birthday.
Oh, and what a trip it was. When we heard on Sat. night that our Mon. morning flight was cancelled because of the impending blizzard, we went to the airport on Sunday morning at 4 am to confirm the first seat out available after the storm and to try to get on a Sunday flight on standby. Well, long story short after missing six flights, exploring the whole airport and arcade, being interviewed by the NY Post (who aged me by five years) we left 11 hours later at 3 pm back to Brooklyn. The streets were already slippery, taxis were hard to come by and we shared a cabbie with three others headed towards Brooklyn. Cabbie tried to rip us off. We trudged through the snow.
Get home and check online and our itinerary is not updated. I can't get through to the airline, but, Baruch Hashem for twitter I found the back door by various posters to get through via Continental's mobile site "click to talk" feature that calls you back. "Oops, we cancelled your reservation"! Why? I don't know sir. Next flight is Friday. Friday? Yes, Friday. No. Yes. No. Yes. I want a flight out. Sorry. Please. No. Ok, come on there has got to be a way to route through a different city? Ok, we got you through Chicago on Wed. morning...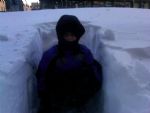 Well we spend the next two days in Snowball fights, snow tunnels and paths, helping get cars unstuck, sledding down mountains of snow and trudging all the while through Mayor Bloomberg's unplowed streets. Oh yeah, and trying to learn how to play the new recorder that Mendel bought with his Chanukah gelt. Chabad.org news also writes a story.
Tuesday night we try to check in, walla! My flight? From NYC. Mendel's? Leaves from Chicago! What?! While holding for 63 minutes, I seriously consider renting a one way car to Texas and driving home. (Amtrack and Greyhound are sold out). Sorry sir there is a glitch in the system. We don't know why it does not have Mendel's itinerary, but, he is on that flight. Just go to the airport.
Now, to find a cab. No car services are operating. Those who are - have two cars. They are are all snowed in. Calling 20 car services, find one private guy willing to do the ride for $120.
Yes, one hundred twenty dollars.
Finally find a guy willing to go for $50 - splitting the ride with someone else headed to LGA at 3 am. Get there before the computers (let alone the ticket counter) even opens. Stand in line at 3:30 am with HUNDREDS of people. The screen at security shows all flight cancelled. I pray that it was yesterday's board. I was thankfully right. Get on the plane to Chicago with no boarding pass to Houston in hand. Run, RUN though O'hare to get the next flight, get a boarding pass at the gate before our seats were almost given away to standbys and land at home on Wednesday afternoon just in time to give my Young Professionals class on Wed. night.
Mendel had a great trip. Me? OK, I did too. Some pics of our adventures on my mobile phone upload gallery here.
Many interesting classes are coming up -
JLI Teens - Sunday
Hebrew - Monday
JLI Flagship - Tuesday
Young Professionals - Wednesday
Tanya - Thursday Lunch Hour
Parsha - Thursday evening
Torah Ohr - Shabbos morning
Read last week's post for all the details at www.chabaduptown.org/blog.
Please join us as we complete the calendar year and bless the new Jewish month of Shevat!
Shabbos Mevarchim Parshas Bo
Friday, December 31
Services at 6:30 pm
Candle Lighting at 5:15 pm | RSVP for special dinner!
Shabbos, January 1
Shabbos Mevarchim Tehillim at 8:30 am
Services at 10:00 am
Followed by kiddush
Mincha at 5:20 pm
Maariv, Havdalla and Shabbos Ends at 6:12 pm
Screening of Living Torah
Looking forward to seeing you Shabbos and may you have a fantastic weekend,
Rabbi Chaim & Chanie